British Columbia Welcoming Back US Boaters!
Beginning August 9th, 2021, fully vaccinated foreign nationals who meet certain criteria can enter Canada for discretionary travel. For now, this applies to US citizens and permanent residents, with international visitors potentially welcome as of September 7th.
Traveller requirements
Check if you qualify for the fully vaccinated traveller exemption and ensure that you meet the following criteria:
Are COVID-19 symptom-free
Are fully vaccinated with a Government Canada approved vaccine
Have received your last dose at least 14 days prior to your arrival in Canada.
Posses a pre-arrival molecular negative COVID-19 test issued within 72-hours of arrival (rapid test does not qualify)
Have completed mandatory information in the ArriveCan App (including a quarantine plan if needed)
Are admissible under the Immigration and Refugee Protection Act
Unvaccinated travellers under the age of 12 years of age will be exempt if travelling with fully vaccinated adults; however, they will be subject to stringent health regulations. Unlike the land and air border, there will be no random COVID-19 arrival testing for marine travellers.
Marine Visitors
All boaters who land on Canadian soil, anchor, moor or come alongside another boat in Canadian waters must report to the Canada Border Services Agency (CBSA) and are subject to all of Canada's entry requirements.
All marine visitors must report to an open marine CBSA station, as listed on their website.
Start Planning Your Trip
Chart your course to explore BC's coastal waters. Discover over 200 marinas and harbours, complete with all the amenities needed to restock, refuel, and enjoy your trip.
Experience British Columbia's legendary hospitality as you visit BC coastal communities, ranging from expansive Metro Vancouver to tiny seaside villages. Plan your trip to line up with fun upcoming events or take a popular circle tour to see the best BC has to offer.
Download or order useful guidebooks and publications for touring BC by boat, complete with charts, cruising guides, and tips for where to visit. Also, ensure you bookmark AHOY BC's Boater Services Guide – just in case you need it!
Boat Responsibly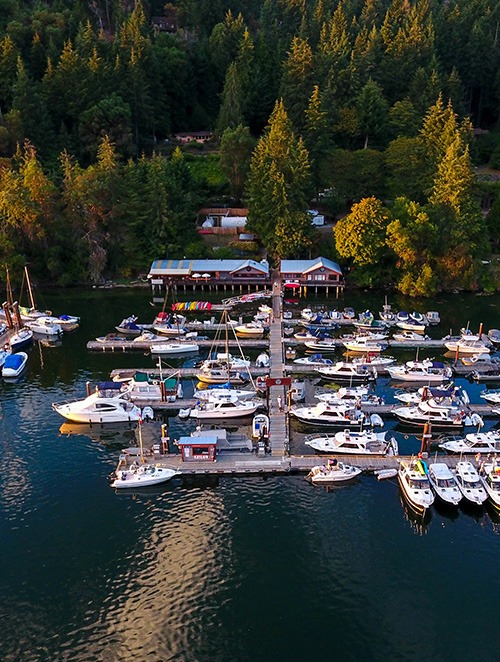 As travel through British Columbia's coastal waters resumes, it is important to monitor current travel restrictions and remember to boat responsibly. By dedicating ourselves to exploring the coastal waters of BC responsibly, we can all stay safe, protect communities, and ensure that marine lands and waterways stay pristine for future boating enthusiasts. Read more about being a responsible traveller while touring British Columbia by boat.
Sign Up for the AHOY BC Newsletter!
Stay in the know when it comes to boating in British Columbia – sign up for the AHOY BC Newsletter. We'll only send you an email once a month at the most, and it will be full of useful tips, upcoming events and suggestions on where to visit while you're here! You can unsubscribe at any time.