Golf lovers don't have to stow their clubs when it comes to a tour of British Columbia's coastal waters – bring them along and enjoy some terrific coastal golf options throughout the province! There are ample opportunities across the length and breadth of BC's coast to head ashore and savour some swings, without having to stray too far from your vessel.
Places:
Vancouver Island
Vancouver Island is home to a multitude of exceptional year-round tracks. Being an island, most golf courses aren't too far from the water – making for temperate rounds and stunning views.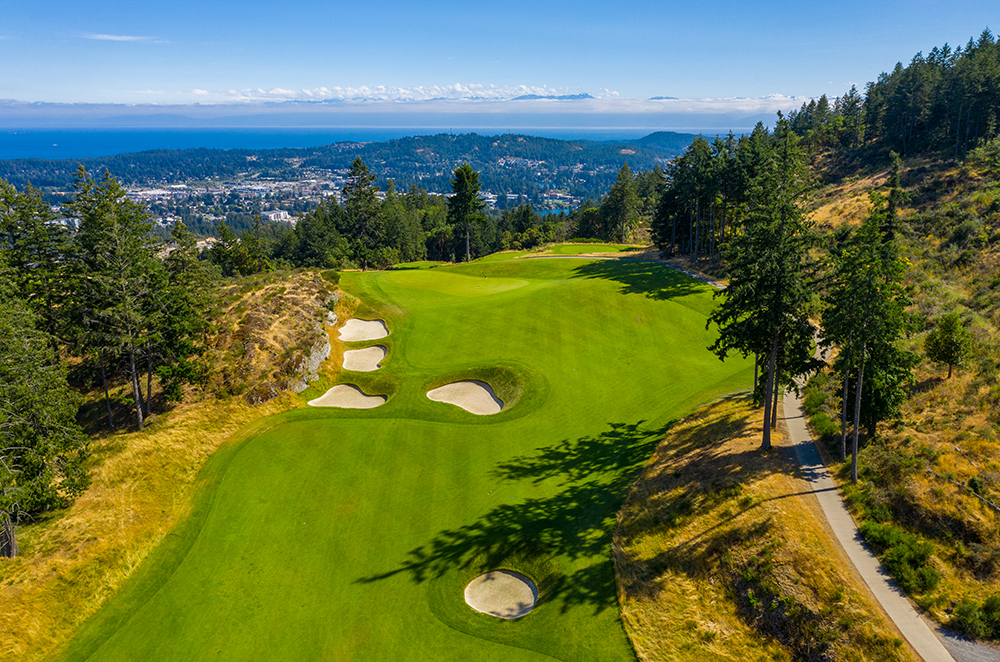 Victoria
The opportunity to tee it up at Victoria and area golf courses should not be missed. Berth at Victoria Harbour Authority to stay close to the action, and hop a taxi (or book a shuttle) to the following fantastic public golf courses, all within a short drive: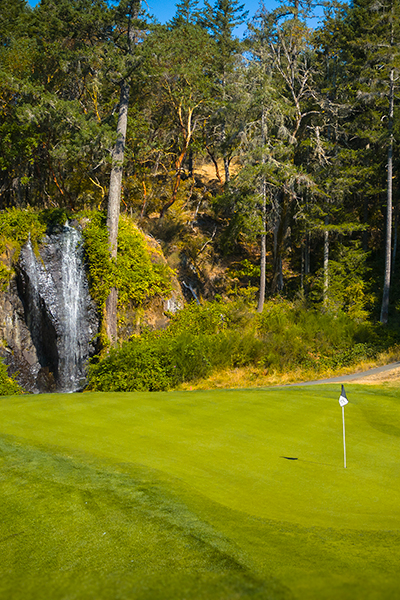 A stay on the eastern side of Vancouver Island in Oak Bay lands you a bit further from the hustle and bustle of Victoria's downtown core, should you desire a more relaxed pace. Mooring or anchoring in Oak Bay offers quick access to explore the aforementioned golf courses while putting you closer to:
Victoria Golf Club (1 km): Although just a short walk from the marina, you'll have to work your network to play this private golf club (ranked in the top 20 in Canada), but if you can get on, it's well worth it.
Henderson Park Par 3 (5 km): Practice your short game on this delightful par 3 nestled in a beautiful, tree-framed setting.
Cordova Bay Golf Course (15 km): Discover a relaxed atmosphere while playing surrounded by stunning views of Haro Strait and Mount Baker.
Pro Tip: Victoria is a hub of activity for visitors, perfect for additional après-boating and golfing including whale watching excursions, a visit to Butchart Gardens, or a craft beer tour.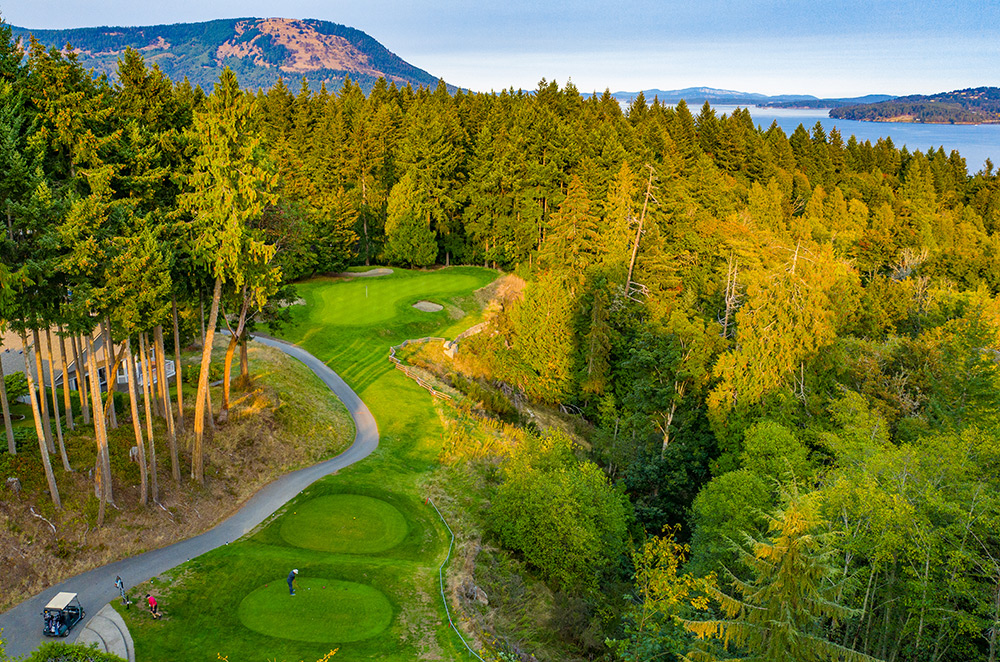 Cowichan Bay – Arbutus Ridge and Cowichan Bay
Entering Mill Bay and the Saanich Inlet, a stay at Mill Bay positions you perfectly to play the beautiful Arbutus Ridge Golf Club (5.5 km) – a Bill Robinson designed, 18-hole golf course set amongst its namesake Arbutus trees that offer some of the most stunning views on Vancouver Island, with holes overlooking the Satellite Channel and panoramic views including Mount Baker.
You can also choose to motor (or sail) further north to Cowichan Bay for additional marina options and you'll be 8.4 km from Arbutus Ridge, and Cowichan Golf Club is just 5.3 km from your boat. Either course provides beautiful scenery, a test for your golfing skills and, most importantly, an enjoyable day of golf. A stay at the beautiful Oceanfront Suites at Cowichan Bay may be worth your consideration if your trip has been long and you are craving a king bed. The Masthead Restaurant is also worth your patronage while in Cowichan Bay!
Pro Tip: You're now in the heart of the Cowichan wine region, with 13 local wineries and vineyards it makes it easy to pair a wine tour with your round!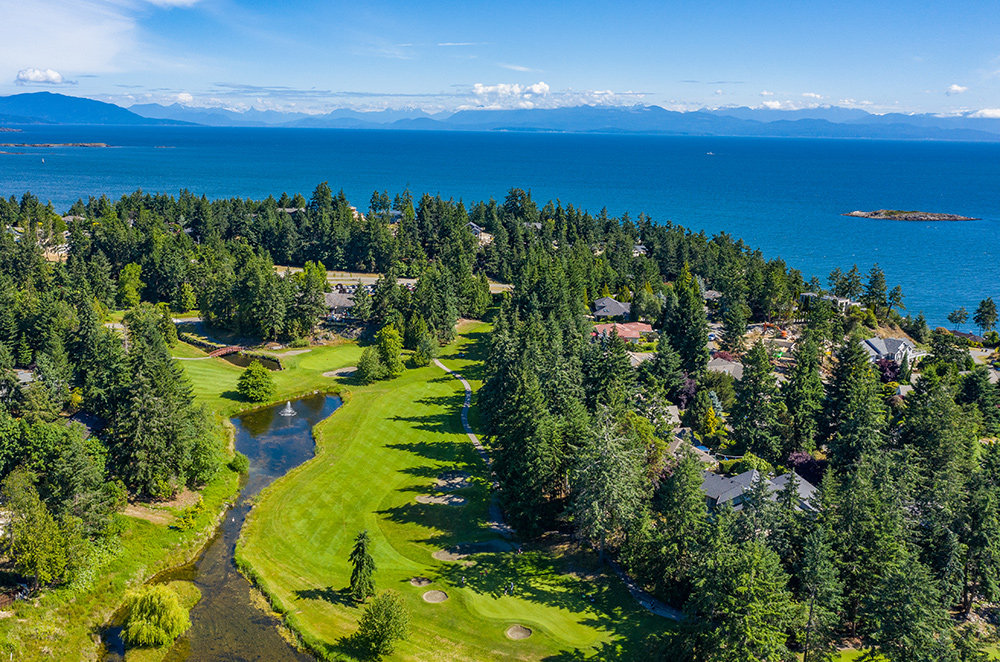 Nanaimo
Discover several options to moor along the harbour in Nanaimo, including Stones Marina, Waterfront Suites and Marina, and Nanaimo Boat Basin – all put you close to the action to explore and play the following:
Nanaimo Golf Club (4 km): A spectacular 18-hole semi-private course, offering a test for low handicap golfers to produce long, straight drives to reach the greens in regulation. Fortunately, the course offers five additional sets of tees for middle and high handicap players to find a level of play suited to skill level.
Beban Park Golf Course (7 km): Enjoy a quick, fun game on this 11-hole Pitch 'n Putt course to tune up your short game.
Eaglequest Golf Center (12 km): Also known as Fiddlers Green, this par 27 course is ideal for a quick and fun round, while still offering a challenge for more advanced golfers.
Pro Tip: Nanaimo is home to the world-famous Nanaimo Bar, and while you'll find many bakeries and cafes offering the delightful treats, you can take your exploration up a notch with a tour of the Nanaimo Bar Trail!
Nanoose Bay
Fairwinds Marina at Schooner Cove is conveniently located in the heart of the community, so you could be playing Fairwinds Golf Club just a few minutes after securing your boat! Located only 2 km from the marina, take a leisurely stroll down Dolphin Drive to the clubhouse, or take advantage of the golf course's complimentary club rentals and shuttle service with your overnight moorage.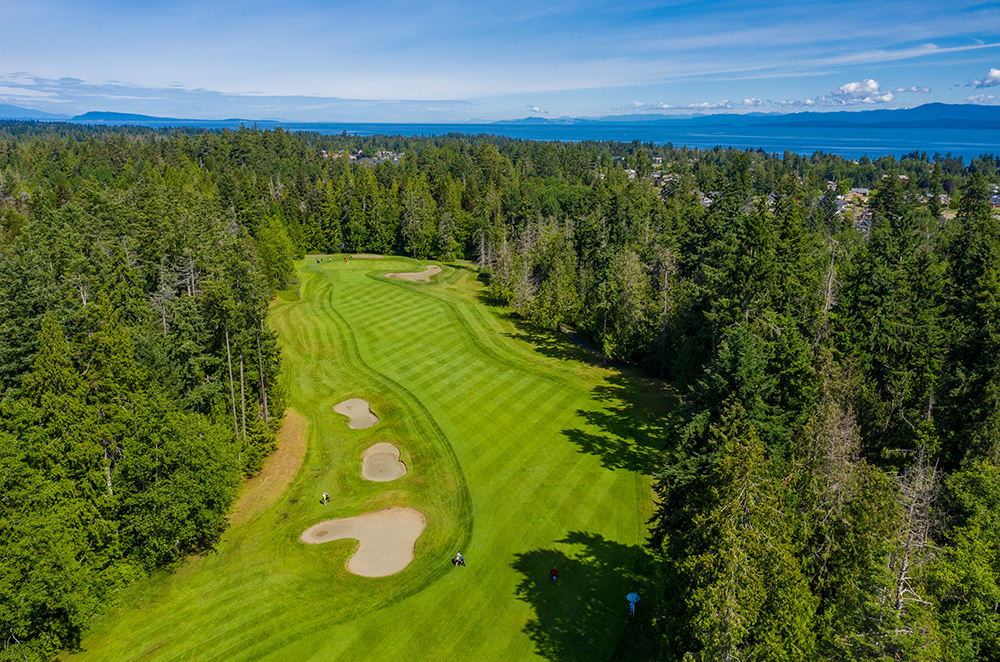 Parskville Qualicum Beach
Plan a stopover at the picturesque communities of Parkville Qualicum Beach for sandy beaches, world-class trails, golf and more! A stay at French Creek Harbour Authority puts you close to quite a few top tracks:
Pro Tip: Renowned for its incredible beach, spend some time exploring Rathtrevor Beach Provincial Park's kilometres of white sand beaches and tidal pools!
Courtenay & Comox
Comox Harbour offers a number of options to stay and play the following area golf courses:
On the way further north along the coastline, stop at Pacific Playgrounds, which will put you just 1 km from Saratoga Beach Golf Course a 9-hole golf course nestled amongst the forest that showcases all of the beauty that you can expect from the Pacific Northwest.
Pro Tip: Explore the expansive Goose Spit Park. Its Indigenous name is Pelxqikw, which means "round on point," and both sides of the spit were used by local First Nations to collect clams and cockles in spring and to fish for salmon in winter. Today, the park offers relaxing trails and a sheltered lagoon that's home to migratory and resident waterfowl.
Campbell River
With several options for moorage right in the heart of Campbell River's waterfront, this bustling little city is a terrific choice if you are heading up island and would like to spend a day ashore exploring the area's golf courses.
Campbell River Golf CC (3.3 km): The re-design of Sequoia Springs by Graham Cooke features 5 sets of new tees, new bentgrass greens, and new water features that all come together into a world-class, inclusive golf experience. You're encouraged to stay longer and book a bay at the Velocity Lounge & Driving Range for an evening of good food and fun!
Storey Creek (15km from Campbell River or 13km from Pacific Playgrounds Resort & Marina): Brimming with natural beauty, and tranquillity amidst the old-growth and second-growth forest resulting in a unique golfing experience in nature's backyard.
And for an even more laid-back golf experience, head across Discovery Passage to Quadra Island and play Quadra Island Golf Club. You can moor at Quathiaski Cove or take a 10-minute ferry ride that departs hourly – from there it's just 4 km by free shuttle (please book the shuttle in advance by calling the golf course) to this delightful, parklike 9-hole golf course.
Pro Tip: Book a unique experience while in the area with a salmon snorkelling excursion from mid-July to September (although August is the peak of the salmon run for the best experience). Float down the crystal-clear waters of the river with a wetsuit and snorkelling equipment provided.
Keep Exploring!
There are a few other golf courses on Vancouver Island to consider playing if you're in the area. In Port Hardy, Seven Hills Golf Course is 23 km away from the dock, although you might want to look into transportation options before committing.
If you're touring up the western shores of Vancouver Island (or embarking on a circle tour) of Vancouver Island), then you might want to add these laid-back golf courses to your list:
Port Alice Golf & CC is just 6.3 km from Rumble Beach Marina. This unique 9-hole course features tight greens, water hazards and interesting terrain, surrounded by the lush tree line and mountains.
Long Beach Golf Course: This location has everything – a 9-hole championship course, driving range, mini golf, Tacofino and refreshments, all just 14 km from Tofino Harbour Authority.
Alberni Golf Club: Located at the end of Alberni Inlet, a stay at Clutesi Haven Marina puts you just 5.7 km from this 6,242-yard, par 70 course nestled amongst the evergreens and under Mount Arrowsmith for a relaxing, nature-filled round.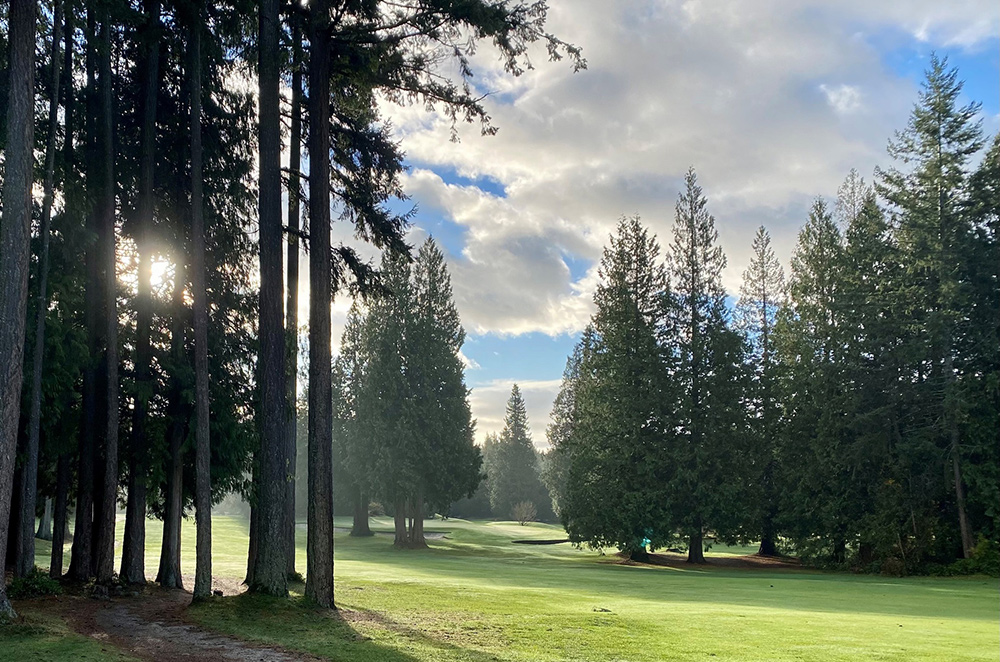 Sunshine Coast
Several golf courses are located near the waters along the beautiful Sunshine Coast (named aptly for its over 2400 average annual hours of sunshine), so it's a perfect place to stop off for a round (closet marina to each golf course and distance listed below):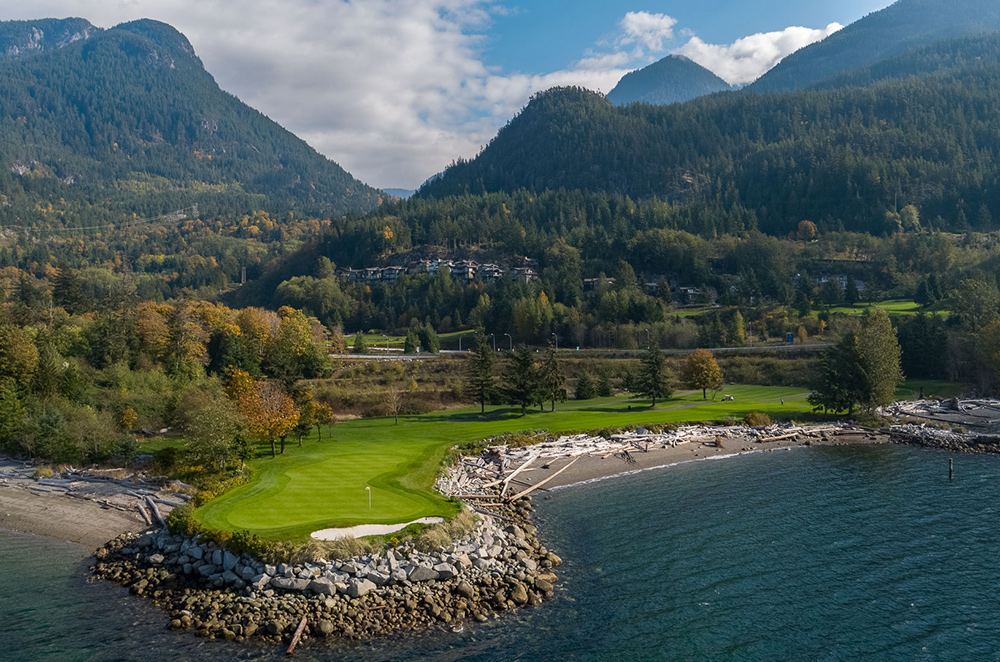 Howe Sound
If you're heading up beautiful Howe Sound, there are two incredible golf courses to consider. There are a few moorage options inside the Mamquam Blind Channel and from there you can plan your transportation to play:
Squamish Valley Golf & CC (6.6 km): A championship par-72 golf course featuring breathtaking mountain views, lakes, tree-lined fairways, and wildlife.
Furry Creek Golf & CC (19.8 km): A stunning oceanside setting paired with a beautifully landscaped Robert Muir Graves designed course, complete with a "Tee to Sea" – the 14th hole is set out into the waters of Howe Sound and tops the list of British Columbia's most photogenic golf holes.
Pro Tip: Refresh after your round with a tour of the Squamish Ale Trail, home to Howe Sound Brewing and Cliffside Cider.
Vancouver & Lower Mainland
This region's mild, temperate climate means that you can find golf here on lush greens all year round. Dotted around the coast you'll find plenty of marinas to stop in at while you explore the golf courses nearby. We've outlined these golf courses below, along with the closest options for moorage:
Vancouver
Richmond
Pro Tip: There are so many things to do in Vancouver and area it might be difficult to narrow it down! Top suggestions include a visit to Granville Island, the public market and seawall, the Richmond Night Market or Lonsdale Quay Market.
Surrey/White Rock/Crescent Beach
South Surrey and White Rock are ideal for a day of exploring beaches, restaurants, and trails all along the waterfront. Moorage is offered at Crescent Beach Marina.
Pro Tip: While staying in picturesque Crescent Beach, take a walk along the waterfront at sunset for some incredible views, paddleboard Boundary Bay, and visit Blackie Spit for some terrific birdwatching.
Gulf Islands
The lovely Gulf Islands are home to a handful of laid-back, picturesque golf courses:
Galiano Golf Course (4.9 km from Montague Harbour Marina): No tee times are needed to play this 9-hole executive golf course, complete with manicured greens, elevated tee boxes and two separate tees.
Pender Island Golf & CC (1.1 km from Otter Bay Marina): Considered one of BC's most scenic 9-hole public golf courses, offering four elevated tee boxes and expansive views.
Salt Spring Island Golf Club (3.5 km from Ganges Harbour – multiple moorage options): is A beautiful 9-hole golf course comprised of gently rolling fairways, water features and old-growth forest, just minutes from Ganges.
Pro Tip: Salt Spring Island is ideal for a resupply and day spent touring the quaint shops and hand-crafted goods, particularly during their Saturday Artisan & Farmer's Market.
Northern BC
Heading north through the Johnstone Straight and into the Broughton Archipelago, your golf options near the water are going to dwindle, but there are still a few terrific tracks to consider:
Haida Gwaii
Willows Golf Course, offering 9 holes of links and parkland-style golf, can be found right near the Sandspit Airport, just 3.9 km from the Sandspit Harbour Authority. [no links]
Dixon Entrance Golf & Country Club is an 18-hole golf course located in the village of Masset, just 5.4 km from the Delkatla Slough Harbour Authority.
Pro Tip: The history and culture on Haida Gwaii is off the charts – so put aside some time to visit the Haida Gwaii Museum, Haida House at Tlall, Haida Heritage Centre and longhouses on Gwaii Haanas.
Prince Rupert
Still going north? Don't put your clubs away just yet! Prince Rupert Golf Club is just a little over 2 km from Cow Bay – with plenty of options for moorage.
Pro Tip: Head out for a hike on the Butze Rapid Trail, a leisurely 3.2 km loop that meanders through the coastal rain forest and wetlands, ending at a lookout over the tidal rapids.
That's it! Now it's time to start planning your excursion along BC's coastline, complete with golf!