Find the Wild in Broughton Archipelago & Johnstone Strait
Just when you think it can't get any wilder, it does. Cruising north from Desolation Sound and the Discovery Islands, you pass through one of several narrow channels, and out into a remoter world. Johnstone Straight floods out to the Broughton Archipelago's 200+ islands wedged against the Coast Mountains. There are few host human communities, only inky-green rainforests sloping steeply to the living sea.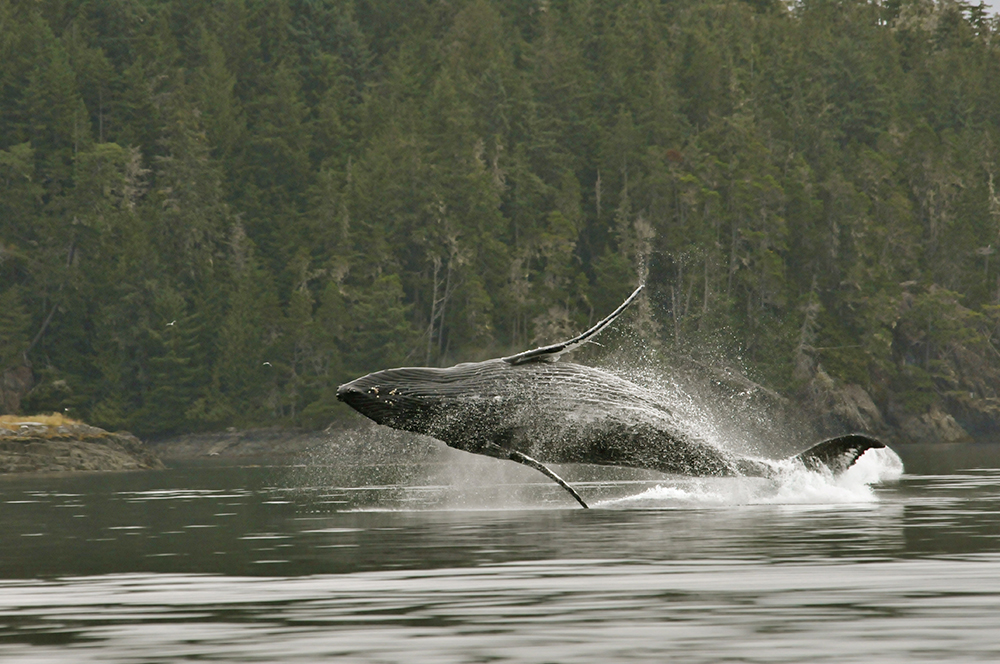 Want Wildlife? We've Got Wildlife
Ocean currents support abundant marine life. It is not uncommon in some areas to be surrounded by splashing humpback whales, fishing orcas, speeding dolphins, and thousands of calling birds all in the same second. Look up and perhaps a black bear patrols the shore. If you thread your way back to the mainland inlets, you may see grizzly bears, for this is the start of the famed Great Bear Rainforest. The animals come for the abundance of fish here, from capelin to Pacific salmon. The fishing is good for humans, too. You can try for salmon, halibut, ling cod, prawns and crabs with excellent odds.
Sociable Cruising with Ancient and Frontier Cultures
Like everywhere on BC's wild, yet civilized coast, along with astonishing natural bounty, the Broughtons are a sociable place to boat. From tiny communities like Telegraph Cove that share Canada's frontier history, to First Nations villages like Alert Bay that combine modern life and ancient culture, to the camaraderie of boaters on the water or in resorts like Sullivan Bay on Broughton Island or Pierre's at Echo Bay, the Broughton Archipelago truly offers you a rare combination of nature and culture in a compact cruising area. For a true splurge, you can tie up at the friendly, luxury outpost Nimmo Bay Resort in McKenzie Sound and dine on an exquisite meal by chefs who cater to movie stars.
Kayaking, Hiking, Marine Parks
Kayaking and hiking are great recreational options here. In settled weather, the outer islets are well worth exploring. If a bit of wind is forecast, there are lots of good anchorages and pretty coves deeper into the larger islands of the archipelago. The Burdwoods Group Conservancy islands at the entrance to Tribune Channel is exquisite. There is a hike up from Boat Bay, off Johnstone Strait, to the bluffs at Eagle Eye, where in summertime whale researchers count orcas transiting the area. Broughton Archipelago is the largest marine park in the province, spread across many islands. Visit Marine Parks to learn more.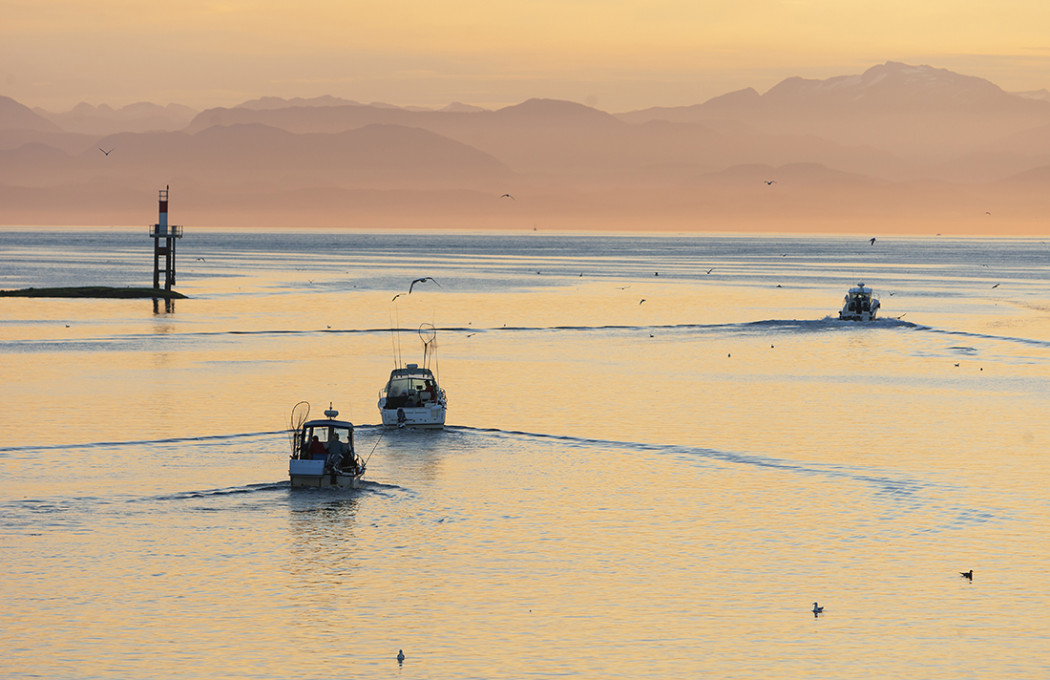 As the gateway to the Georgia Straight and rivers to the south, the Broughton and Johnstone Strait promise a concentration of salmon coming from the open ocean as they travel to rivers as close as the Eve in Johnstone Strait to the Mighty Fraser River. Schooling Pink salmon make for excellent beach fishing or casting opportunities. Coho and Chinook will come through in waves and can be targeted when near shore commotion and bait schools or spotted. Watch for passing and feeding Orcas and a plethora of sea birds too. East from Port Hardy, across Johnstone Strait, is B.C.'s largest marine park consisting of dozens of small islands and islets with white beaches, magnificent views and more. The tidal action and the funnel effect here produces excellent fishing. Your only company here is likely to be humpbacks, orcas and possibly a kayaker or two.
Routes for Exploring the Broughton Archipelago
Use Campbell River, Powell River, Port McNeill or Port Hardy as your provision port. A popular route starts at Johnstone Strait and around Hansen Island through Blackney Pass to Blackfish Sound. Then, as you head north into the Broughton Archipelago, you can head northwest around the Broughton Islands or northeast around Gilford Island. Both offer exceptionally scenic cruising.
Here are some highlights we suggest.
Telegraph Cove, Vancouver Island
Rated one of the ten best towns in Canada to visit by Harrowsmith magazine, Telegraph Cove is a must-see. Small, historic wooden buildings cling to a wooden boardwalk that lines one side of a tiny cove. Experience what it was like living in one of the many sawmill or fish cannery villages that flourished on the coast in the early 1900s. The Whale Musuem is popular, as is the pub. Day trips to view bears at Glendale Cove are available from Telegraph Cove.
Blackney Pass, Blackfish Sound, Hansen Island
This is the epicenter of activity for the northern resident clan of orcas from July through the autumn. The clan numbers about 200 orcas that travel in close-knit family groups. Much of what we know about orcas was discovered here. This area is also rich in humpback whales, dolphins and seabirds.
Alert Bay and U'Mista Cultural Centre, Cormorant Island
Here you have the opportunity for plenty of walking, hiking and cycling around the island. A boardwalk leads along the waterfront toward U'Mista Cultural Centre, a superb destination to learn the cultural heritage of the Kwakwa_ka'wakw, from a stunning collection of potlatch masks and objects to ethnobiology and origin stories. Stop and talk to a local carver along the way.
Echo Bay, Gilford Island and Sointula, Malcolm Island
On the east side of Gilford Island, you'll find a great example of an unincorporated, off-the-grid settlement: Echo Bay. Billy Proctor's Museum is filled with amazing artefacts, his gift shop crammed with local books and art. Billy Proctor himself is a legend and if you get a chance to talk with him, do. Weekly pig roasts at Pierre's Echo Bay Lodge are popular with boaters. Note that the docks at the abandoned resort may not be safe. The charming, seaside Finnish settlement of Sointula was initially established as a utopian community. On the island there are extraordinary hiking trails and a small museum, and if you visit Bere Point on the right day you just may see orcas offshore.
Navigation and Responsible Travel
One of your biggest navigational challenges is to just get here. There are very strong tidal currents in the narrow passages (Seymour Narrows, Cordero Channel) that lead here from southern waters. Make sure you transit these passages only at slack tide. Currents on the ebb and flood can reach 15 kmh (10 mph), generating whirlpools and standing waves. Likewise, check the tides and currents as you navigate through the narrow passageways of the Archipelago. If you pay attention to these details, this is a blissful cruising area. There are many anchorages in the inner islands of the Archipelago. If you head into a mainland inlet, anchoring can be tricky. Shallow shores drop steeply to deep fjords, and a tidal range of about 12 feet can leave you high and dry or floating unattached if you don't read the chart and tables correctly.
This is one of the planet's last unspoiled regions and it teems with life. The privilege of travelling here comes with the responsibility to protect the area. Please consult our Marine Stewardship Ethics.
The Broughton Archipelago has a history of human habitation that goes back many millennia. Cultural sites are everywhere in this region, including beautiful white beaches (made from shell middens), carved poles and burial sites. If you encounter such a site do not move or take anything and respect area closures. Never remove the white "shell-sand" from a shell midden beach. Please consult our Guide for Travel in First Nations Traditional Territories.