Welcome, Fellow Traveller
My name is Candace Campo, I am a member of the shíshálh Nation, and my ancestral name is xet'semíts'a (to always be there). Born and raised on the Sunshine Coast in a small community in Sechelt, I have been paddling canoes, kayaks and skiffs since my earliest memories will allow me to remember. As an avid kayaker, and owner of Talaysay Tours, I have paddled through all of the inlets on the Sunshine Coast, Indian Arm and in the Clayoquot Sound and Broken Islands in more recent years. These adventures have brought with them lifetime memories, new friends and an expanded awareness of my need to be aware of new waters and new cultures.
British Columbia, in all of its glorious beauty, is unique with its vast array of cultural diversity; particular among the North West Coast First Nations people. With over 300 First Nations groups, there is vast diversity of languages, customs and protocols. I would like to share with you, my fellow travellers, some of the protocols and customs to consider on your travels when travelling within the territories and homelands of First Nations people.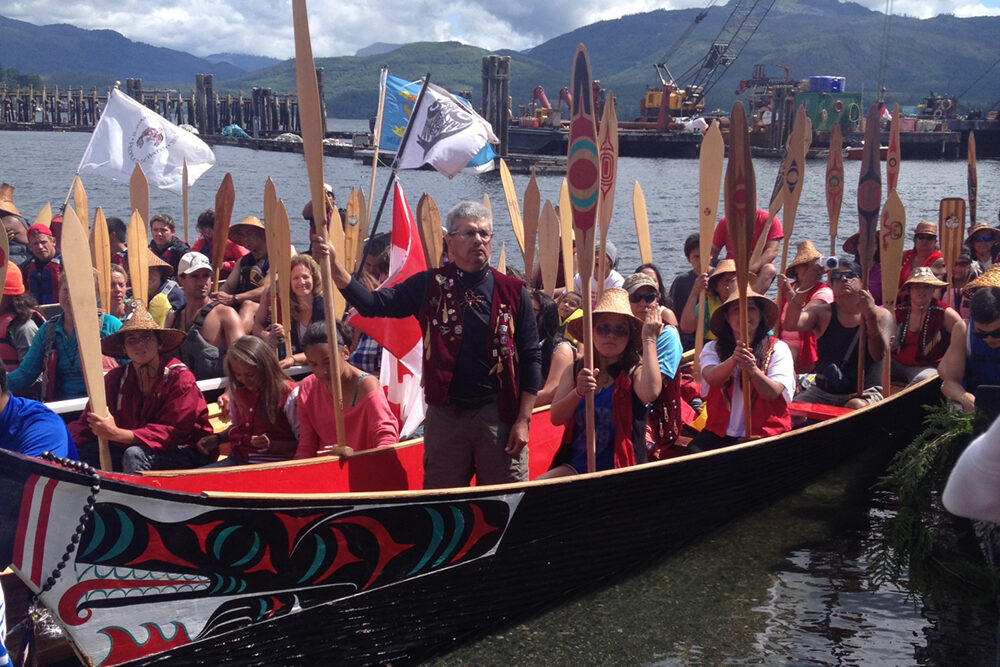 Land, People and Animals — We are One
Many of our First Peoples today identify their tribal and clan system with the animals and the plants — Bear, eagle, raven, fireweed. I am from the wolf clan. Our ancestral names, past down generation to generation, are affiliated with the places we come from and with those affiliations we carry responsibilities. We are the land and the land is us, for our Creator made the land, water, people, and animals. This is the cosmology, the beliefs, that make up and drive the principals and practices of stewardship. I hope you will take the opportunity to learn about our world-view while you travel the coast of British Columbia. If you understand our traditional identity with what the Creator has made, you will naturally respect the environment.
Did you know?
Every two years there is a major festival of the grandest scale involving thousands of First Nations people, and it takes place throughout the west coast from Washington, across BC to Alaska. It is called the Tribal Canoe Journeys. Canoe Families, representing their Nation, launch their traditional sea-going canoe in the water and paddle hundreds of nautical miles to the host destination. During these three to four weeks journeys, each Canoe Family will camp and visit and be hosted along the way by the other First Nations communities who will house, billet, save lawn space for tenting and feed the various Canoe Families. The evenings during this potlatch-style event, are filled with rich cultural celebration, drumming, singing and dancing. During the day, people will rest, gather, do artwork. The skippers of the canoes will meet and talk with the local elders and fishermen and listen attentively to their knowledge of tides, currents, weather patterns and locations of good beach landings. We may even be told where not to go if the locals are doing spiritual ceremonies, visions quests or if there are small islands with burials. We all know to respect our hosts wishes; it is a given.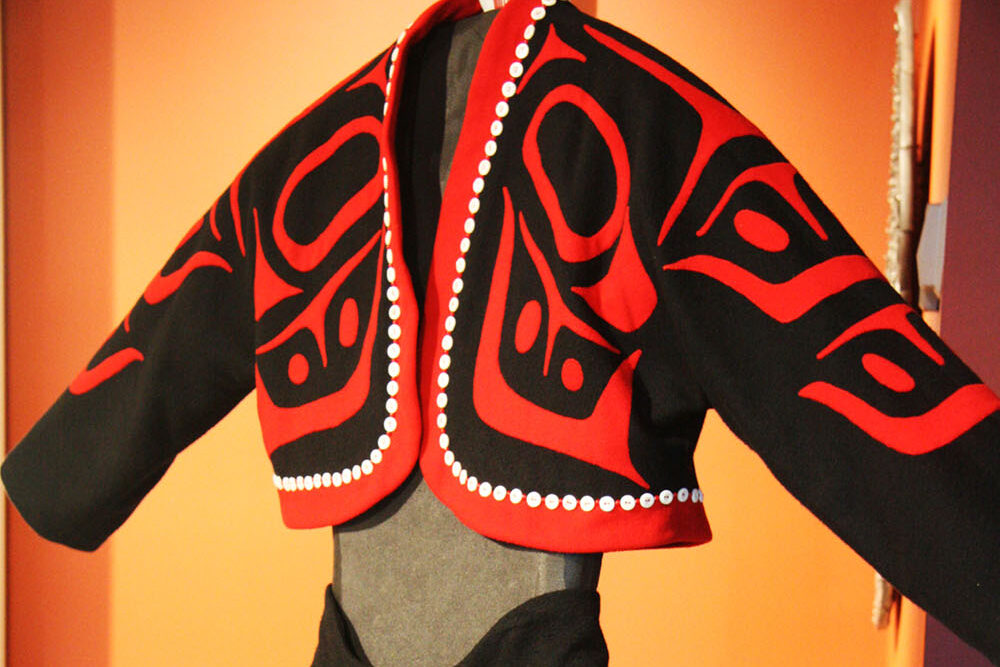 Longhouse Ceremonies and Navigational Apps
Of the many experiences, celebrating with the Namgis people in Alert Bay in their Big House and feasting on halibut, salmon, herring, eulogons, clams, and herring roe, while witnessing their peoples' beautiful songs and dances, will be a life time memory for me. As a northern Coast Salish, I have been taught by our elders to never get up and walk around during a ceremony. Namgis are strong in their traditions and appreciate guests who are aware. While in Alert Bay you have an opportunity to experience Namgis traditions at the U'mitsa Cultural Centre.
Rupert Wilson, hereditary Chief of Fort Renfrew, now sharing the position with his daughter, sat with us at the beach as we discussed the logistics to cross by canoe to Bella Bella. Nerves were high among our skxwxú7mesh kuxu7h siyaya (Squamish Canoe Family) knowing, as shared by Chief Wilson, that beach landings were scarce. Fortunately, Chief Rupert, a fisherman all of his life, shared his knowledge and experience that morning and our Canoe Family's confidence grew. Just when I thought it couldn't get any better Chief Rupert, 80 years old, pulled out his iPad and brought up his marine nautical map to assist his lesson. The moment was brilliant and I knew then that I had experienced the best of both worlds.
Traveller's Considerations
When travelling and given the opportunity, ask the locals if you are permitted to be in the area that you desire to visit. During events and ceremonies, it is our cultural practices as First Nations for one First Nation (Tribe) to ask another tribe permission to enter their beach and land. It is understood that most travellers are not tribal peoples, but the expression of showing respect will be appreciated. When arriving in places with non-indigenous names, reflect that those new names have existed for decades or perhaps a hundred years. The place names of the First Nations are thousands of years old, because of our long history of residing and caring for the area. It is recommended that you ask for cultural information on an area you plan to explore. Who are the local First Nations of the area? What do they call themselves? If you have time to visit and explore, ask if there are any local First Nations tours, events or activities available to the public. Is there a local museum or cultural centre available to provide you more information? Are there any cultural protocols or sacred sites to be avoided that travellers should know about? Leave a friendly, green footprint. Ask the locals and the Visitor Info Centres if it is it okay to take photos of buildings, art and or artifacts. With a smile, I suggest, if you want to take a photo of a First Nations' person, ask permission and he or she just might say yes. We sometimes have international visitors who are so excited to take our picture that they forget to ask. True story. I invite you to create you own story in the ancient lands of West Coast First Nations.