Raw adventure and comforts, too!
The decision to tackle the challenge of exploring Vancouver Island's wild west coast is the first step in a grand adventure. Once under way, the rolling ocean swells and an uninterrupted flat horizon to the west replace the calmer, land-locked waters on the east side of Vancouver Island. Welcome to the Pacific Ocean which frequently belies its "peaceful" name and where the next landfall to the west is Japan!
Yes, here is a destination for experienced boaters piloting a seaworthy, well-equipped craft. But it is within reach of the average cruiser who is watchful of swiftly-changing weather, strong winds, rock-strewn shoals and shorelines that can test any mariners' skills and self-reliance. The good news is that there are plenty of welcoming marinas, sheltered anchorages in cozy, and a sprinkling of coastal communities along the route. Much of the route is in protected waters. See our anchorage guide for more details on routes.
Most mariners choose to navigate from north to south, cruising with the prevailing summer NW winds and currents. The recommended weather window for recreational cruisers extends from late May to mid-September. Resorts and marinas are open for extended seasons and if you would like all of this excellent fishing and jaw-dropping splendour to yourself, come in Spring or Fall.
For those who haul their boat, there are several places to launch from. Sooke, Port Renfrew, Tofino, Ucluelet, Port Alberni, Gold River are the most accessible launching points. You can explore the most remote and challenging regions from safe bases at Tahsis, Coal Harbour, Zeballos, Port Alice and Holberg. Use our searchable map to find communities and what they offer.

Every community from Sooke to Winter Harbour offers guided fishing excursions among the countless coastal islands and many fjords (sounds) that penetrate the island. All communities serve as bases to fish the surf line or venture off shore to meet the fish highway or even search for tuna. Exposure to the open ocean provides excellent opportunities for halibut too.
What to Discover, North to South
Port Hardy, near the top of the northeast coast of Vancouver Island, is the northern gateway to Vancouver Island West. Rounding Cape Scott into the open ocean, the adventure begins with long, largely-uninhabited stretches of coast where nature rules both on land and at sea. Get out the fishing rod and troll for a meal of ultra-fresh salmon: you're living an angler's dream!
A tempting detour into a protected inlet off Quatsino Sound leads recreational boaters to the mini-village of Winter Harbour (population 20 souls), with a rich history as a crab and clam cannery, a trading post and, more recently, a commercial fishing hub. Today its nearshore waters offer world-class recreational fishing, but perhaps most intriguing is the settlement's unlikely reputation as a one-stop shop for "everything from bolts to bananas", including fresh produce, meat, a fine selection of wine and beer, and, of course, fuel.
The Sounds of Silence
Cruise on through the open waters of Quatsino Sound and Kyuquot Sound, sharing your day with an abundance of marine wildlife including many whale species — grey, minke, humpback and orca (killer whales) — as they make their way to or from the rich feeding waters of Alaska. If you're lucky, you'll spot dozens of charming sea otters anchoring themselves in the kelp and taking a nap. The trade in otter fur in centuries past brought these animals to total extinction in this region, but their re-introduction in 1969 has been an obvious success.
Still heading south through Kyuquot and Nootka Sound, there is a little more human settlement with villages tucked deep into tranquil inlets. Gold River, Zeballos and Tahsis, former mining and forestry communities, now offer first class ecotourism and sports fishing services with marina facilities. These villages have a tale to share over a mug of beer in the local pub, perhaps with the mayor. Visit the Tahsis Museum to learn why this village of 300 claims to be the birth place of BC. It is far between comforts out here and your best bets are Westview Marina and Lodge at Tahsis and Moutcha Bay Resort in the heart of Nootka Sound.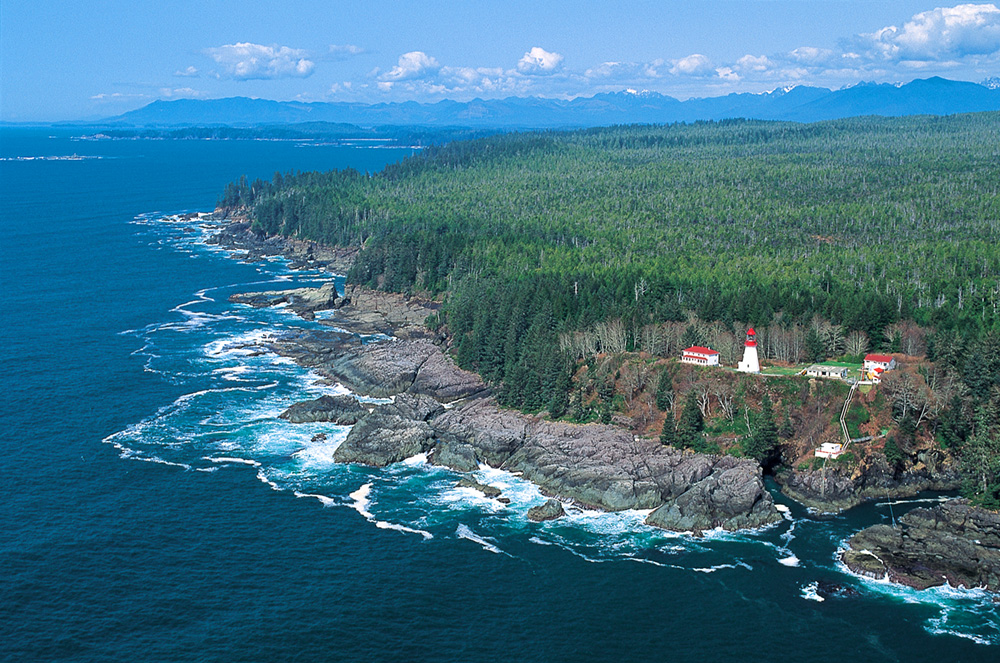 Take some comfort
Hot Springs Cove Marine Park in Clayoquot Sound is a highlight of any west coast cruise, with a two-mile boardwalk through lush rainforest to the natural hot springs. You'll want a long soak, most likely having the pool to yourself. Clayoquot Sound is a UNESCO Biosphere Reserve designated for its striking sandy beaches transitioning to old growth forests and upward to stunning alpine vistas. On the southern rim of Clayoquot Sound is the town of Tofino, offering an eclectic mix of alternative lifestylers, Canada's best surfing off the really long Long Beach, and several world-class luxury resorts with sumptuous fine dining. Tofino and Ucluelet offer full service marinas.
But the promised "Wild Pacific" cruise isn't over yet! Visit Barkley Sound and the Broken Group of Islands, the most southerly and popular of the five major sounds that define the crenulated coastline of North America's largest Pacific-facing island. Allow several land days to discover one of Canada's most beloved parks, Pacific Rim National Park, including its hiking trails and 50 kilometers of fine sand beaches punctuated with rock pinnacles and outcroppings. The Broken Group Islands protectively nestled in the Alberni Inlet, are famous for spectacular kayaking.
In addition to its picturesque boardwalk, sport fishing and ecotourism, Bamfield on the south side of the Alberni Inlet is unique on the west coast for an internationally acclaimed Music by the Sea Festival held each July for nearly a decade. For some restful cruising, journey up mountain-ringed Alberni Inlet deeply into the Island to Port Alberni, where there are several marinas and nearby amenities. Before you leave the grand, open sea, make last stops at Port Renfrew and Sooke. The fishing along this corner of Vancouver Island is unbeatable. Have one last taste of wild salmon or halibut.
You've done it!
You have explored from the perfect solitude of Vancouver Island West's northern region ever closer to the more protected channel of Juan de Fuca Strait and round the southern tip to British Columbia's capital city, Victoria. Every mariner reports an exhilarating sense of accomplishment after completing navigation of the wild west coast, no matter which direction is chosen. The most common regret is not allowing enough time to enjoy each destination during what, for most people, will be a once-in-a-lifetime adventure.