A Healthy Appetite
There is nothing more pleasurable than spending a day hiking the shoreline, enjoying a beach and a swim, then following it up with a sumptuous meal and refreshing beverage. Here you can stroll along the oceanside through rainforest or the dry coastal Douglas Fir-Arbutus ecosystem, or you can test yourself on the West Coast Trail, which many claim is the toughest (and most worth it) hike in North America.
There are hundreds of coastal trails and thousands of sandy beaches on our coast and its islands. Here, we highlight a few. To learn more, visit the Visitor Information Centre in any community. All of them have information on local hikes. We strongly advise you to obtain accurate trail information, a trail map, be properly dressed and equipped and to let someone know when you expect to return.
For a quick sample of hikes see 10 great hikes.
Combine kayaking, camping and hiking. Many marinas have RV parks and campgrounds and almost all offer kayak rentals or boat rentals. Find them on our interactive map, or visit Camping and RVing BC Coalition and BC Marine Trails.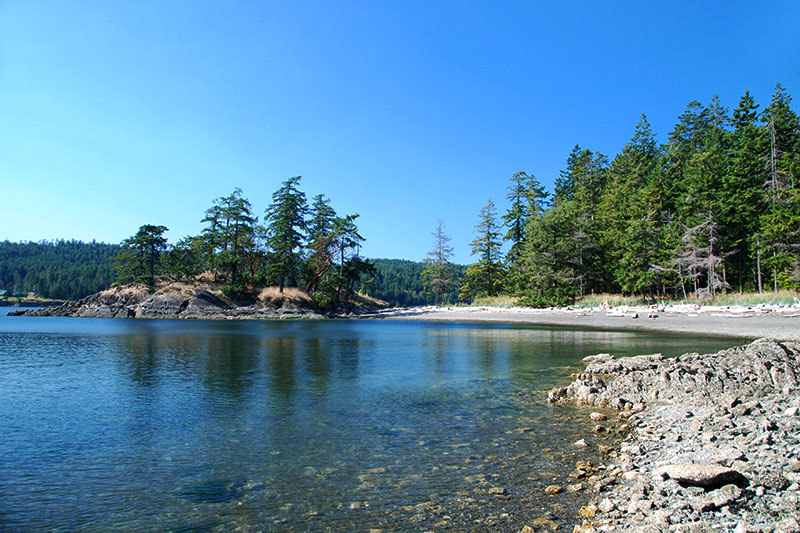 Vancouver/Howe Sound
The Diez Vistas trail is a moderately difficult 4-6 hour hike (all times are for round trip) along the ridgelines above Indian Arm and Bunsen Lake in Belcarra Regional Park. Further up Indian Arm is Say Nuth Khaw Yum Provincial Park, with two spectacular waterfalls, a tidal lagoon and outstanding kayaking.
The Stawamus Chief, near Squamish is the second largest free-standing granite outcropping in the world (after the Rock of Gibraltar). This tough climb and descent takes 3-5 hours, depending on which dome is your destination.
Vancouver has lovely sandy beaches at Jericho, Kitsilano, Spanish Bank, and English Bay.
Sunshine Coast
There are accessible sections of the Sunshine Coast Trail near Powell River, which give views of Okeover Inlet, Powell Lake and Jervis Inlet. Replace calories and fluids in Lund at the Boardwalk Restaurant, Lund Hotel or Laughing Oyster.
The easy 6 km (4 mile) round trip hike at Smuggler Cove Provincial Park is a delight. Boardwalks and trails take you through dark, treed wetlands created by beavers to the snug cove and inspiring views of ocean and islands. For seaside dining, we recommend the Upper Deck restaurant at near by Secret Cove Marina or the Blue Heron on Porpoise Bay near Sechelt.
Easily accessed beaches include Soames Beach (near Gibsons), Roberts Creek and Davis Bay (near Sechelt). It is only a short kayak trip from Lund to Savary Island, dubbed the "Hawaii of the North" for its continuous beaches and mild water.
Gulf Islands
This group of seven islands offers extraordinary hiking, biking and après amenities. Island hopping is easy on BC Ferries. Leave from Tsawwassen on the mainland or from Swartz Bay on Vancouver Island. Here is a sample of hiking trails on the Gulf Islands and other islands.
Roads on the Gulf Islands are mainly narrow laneways that follow the contours of the land like a rollercoaster. Travelling them gives an intimate experience of the islands and surrounding sea.
The Gulf Islands National Park Reserve protects the unique habitats of the Gulf Islands, while providing opportunities to view rare forest types and abundant land and sea wildlife. The park at Narvaez Bay offers a variety of trails in a biological hotspot.
An embarrassment of beach riches here. Here is a list of Gulf Islands Beaches, but it is just a starter. The best of the best might be the west facing beach at Montague Provincial Park on Galiano Island. Best sunsets imaginable.
For more information on things to do and things to eat and drink in the Gulf Islands, check out our Gulf Islands page and follow the links to each island.
Vancouver Island
Consult Hiking and Backpacking on Vancouver Island for information on hiking, biking and horse back riding.
With a coastline measuring 3400 km (2134 miles), Vancouver Island offers inexhaustible ocean holiday experiences for the motorist. Most of the Island's coast is accessible by road. Hiking, biking and beachcombing in ancient rainforests, along rugged shorelines and across pristine beaches are the Island's signature. It is difficult to select the best of the best.
Pacific Rim National Park Reserve with the endless sands of Long Beach, surfing Canadian style and the gritty West Coast Trail.
Ucluelet's celebrated Wild Pacific Trail delivers panoramic views of Barkley Sound and the Broken Group Islands. Expect thrillingly big waves during storm-watching season, and keep an eye on the horizon for whales year-round.
Malcolm Island, off the northern tip of Vancouver Island, offers Beautiful Bay Trail, which winds past Bere Point with exquisite views of the sea and a beach where orcas rub themselves happily on the rocks.
At the Island's northern tip, Raft Cove and Cape Scott provincial parks offer dramatic, unpopulated vistas and a nice mix of short and longer day hikes.
Stride out to sea on hard sand flats at low tide or soak up the sights while walking the seawalls in Qualicum Beach and Parksville.