Secluded Bays and Inlets
The Sunshine Coast is a popular destination and a route to Princess Louisa Inlet, Desolation Sound and the Great Bear Rainforest. Stretching from Howe Sound to Desolation Sound, the Sunshine Coast is renowned for casual hospitality and endless sunsets as you journey through secluded bays, striking inlets and tight archipelagos. You'll find enticing communities and full-service marinas along the way.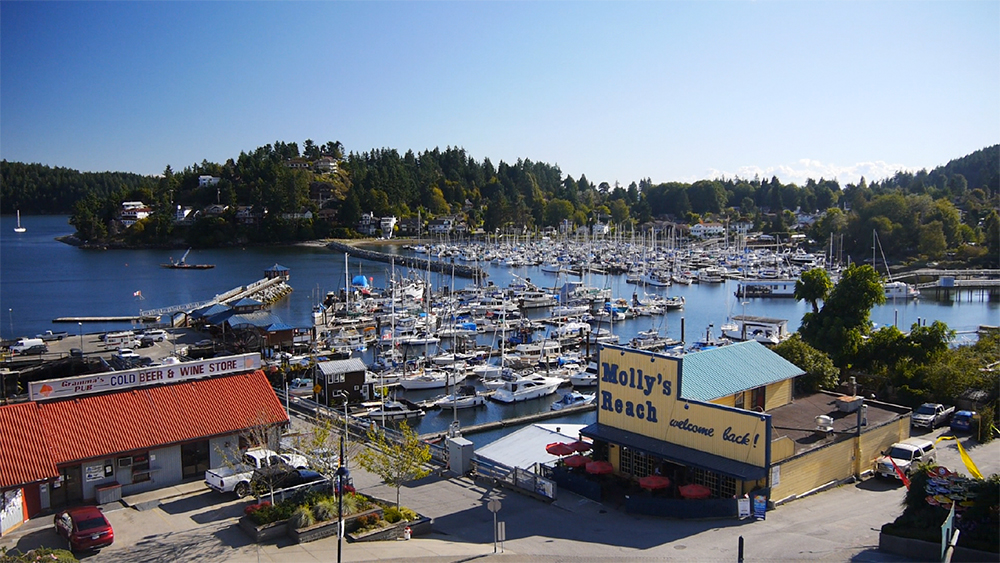 Meet the First Nations
The Sunshine Coast is home to three First Nations: Tla'amin, Klahoose, Homalco, Shíshálh, and Skwxwu7mesh Nations. They have lived on the Salish Sea since time immemorial and they continue to paddle and fish these waters to this day.
You can learn more about local First Nations by visiting places such as the tems swiya Museum in Sechelt and the Powell River Historical Museum and Archives. Or you can book a stay at indigenous-owned accommodations such as Klahoose Wilderness Resort, where you can enjoy seasonal grizzly bear viewing tours and more.
It's part of the mainland, sort of
While it's technically part of the BC mainland, there are no roads to the Sunshine Coast. Your first stop is Gibsons, a small community perched on a hillside overlooking a harbour. Tie up at the Harbour Authority and head over to Smitty's Oyster House or Lunitas Mexican Eatery for some delicious food or check out Molly's Reach, famous from the CBC TV show The Beachcombers. If you're thirsty, try Taphouse Brewing Company or Beachcomber Coffee. Afterwards, visit the Gibsons Public Market and the Sunshine Coast Museum & Archives, or spend some time shopping for unique finds
The next community is Sechelt. There is no moorage on the Salish Sea shoreline. You can visit Sechelt by way of the Agamemnon Channel and Sechelt Inlet, which has long arms to explore and several campsites. This is a lovely, less travelled waterway and at its end, there is the reward of good food and drink. Visit the Lighthouse Pub, located right along the water, or venture into town to enjoy something at Batch 44 Brewery & Kitchen or El Segundo. Looking for some adventure? The thickly forested coastline hides world-class mountain bike trails – purchase a day pass for Coast Gravity Park to get your heart racing.
North of Sechelt, Smugglers Cove Marine Park is a popular stop-over, with enclosed basins and an enchanting hike through forest flooded by beaver dams. The tide pools are strewn with purple starfish and other marine life. You can tie up at the dock in Halfmoon Bay and visit the classic general store (liquor sales). And Secret Cove Marina sells fuel, has a well-stocked store and dining at the Upper Deck Restaurant.
The Salish Sea is bisected here by lengthy Texada Island. Stop at the sailing club and go ashore to experience an island culture in transition from forestry and mining to a haven for rustic living. The passage north to Powell River is protected by Texada.
Powell River is the last sizeable community until Prince Rupert, which is close to Alaska. You will find a full range of services, amenities, and outdoor activities. Beach Gardens Resort is a destination marina with bistro, oceanfront accommodation, kayak rentals, liquor sales, and transportation to nearby Powell River.
Most boaters who come this far are heading to Desolation Sound. The last haven on the Sunshine Coast is in Lund, where you will find a berth, a bed, and a beer at the Lund Resort at Klah ah men. Around the Malaspina Peninsula in Okeover Bay are marinas, a resort, and the exquisite Laughing Oyster Restaurant.
This is a jumping off point for the Fjords, Islands and Passages Region.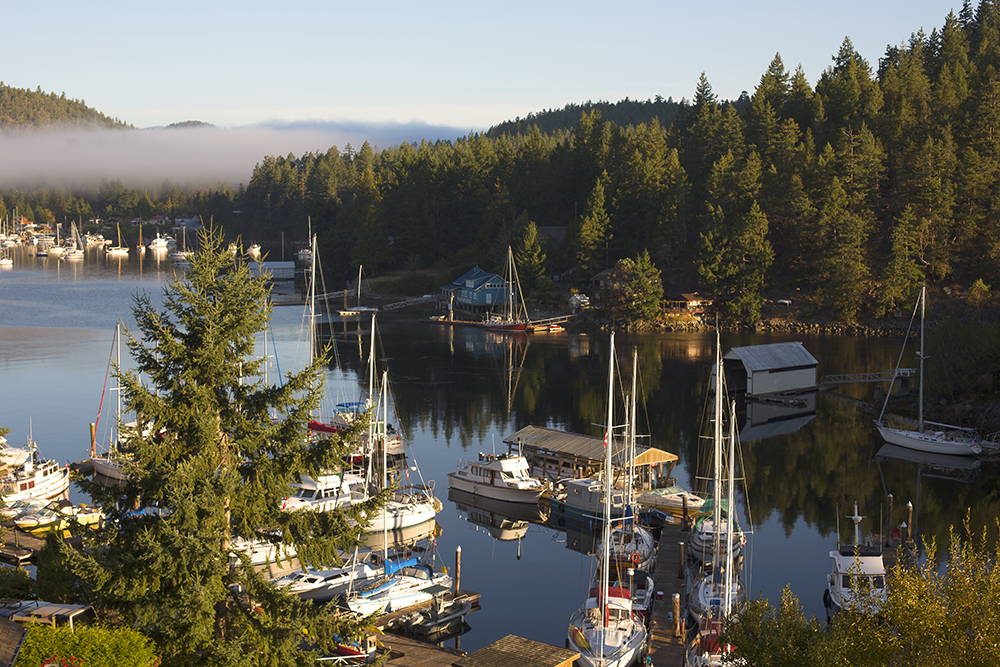 Go a-mazing
The mid-section of the Sunshine Coast is a miniature maze of islands, bays, and fjords. Pender Harbour has an assortment of marinas and amenities. Painted Boat Resort has a marina, full spa, exquisite dining, and comfortable accommodations. Sunshine Coast Resort has boat rentals, a variety of accommodation, and links to land and water activities.
Fuel is available at John Henry's Marina and Resort, a true destination marina with store, cabins, and rentals. If you are combining camping with boating or a waterfront cabin appeals to you, check out Pender Harbour Resort, where you also can rent a small boat.
A taste of the wild is close by in Jervis Inlet with its steep walls, many waterfalls, and year-round snowy peaks. Please consult the Sunshine Coast anchorage guide for staging areas. The best way to enjoy Jervis Inlet is to stay at Backeddy Resort, which is home to a lively pub and a variety of accommodations.
You absolutely must visit Princess Louisa Inlet, described as the "most beautiful anchorage in the world," with 2100 metre-high (6500 feet) high granite cliffs and more than 60 waterfalls. Sunshine Coast Tours offers an interpretive 5-hour tour to where Chatterbox Falls cascades into Princess Louisa Inlet, and a 1-hour tour to the Skookumchuck Narrows tidal rapids, one of BC's most visited natural wonders.
It is well worth the trip down the calm waters of Sechelt Inlet to Porpoise Bay where a berth and casual dining await. The shops of tidy little downtown Sechelt are a modest walk from your dock. Be sure to ask about safely navigating Skookumchuck and Malibu (Princess Louisa entrance) tidal rapids.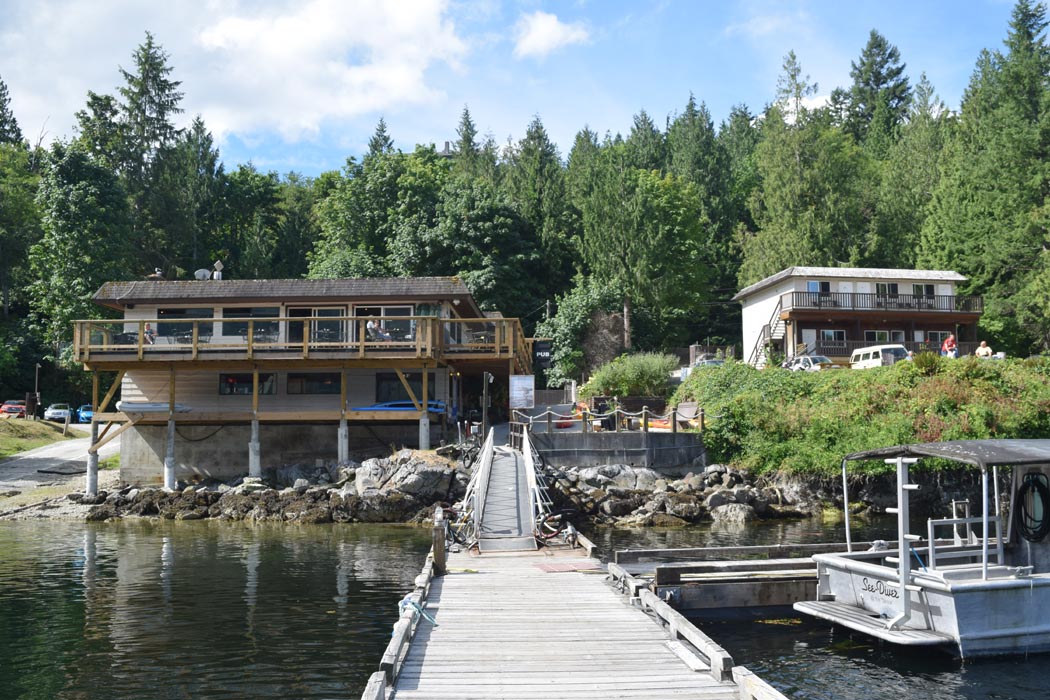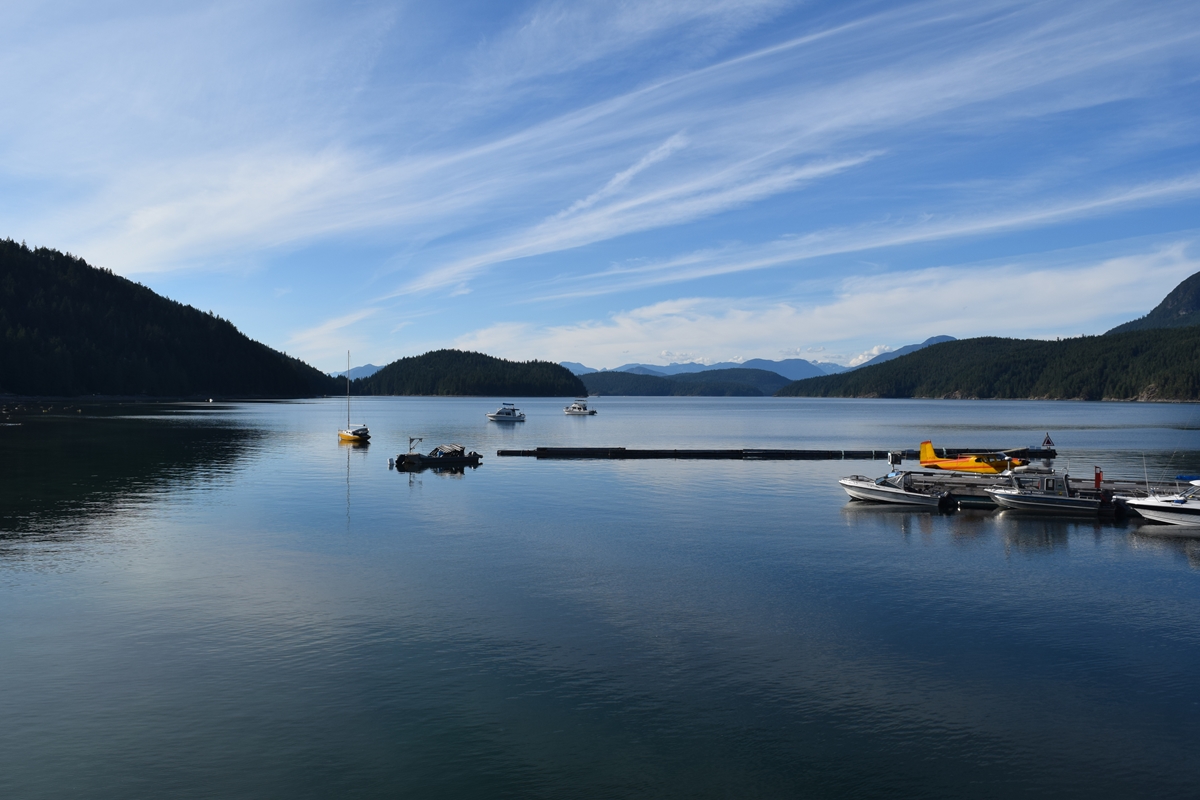 Fishing BC
Relaxation guaranteed. Only accessible by ferry, boat or float plane, the Sunshine Coast is a popular tourist destination with BC locals, especially in summer months. Spend time fishing for salmon and lingcod or set some traps for prawns in the deeper protected water along the coast. All anglers must have a licence to fish in the waters of British Columbia. Visit Fishing BC for more information.