Smuggler Cove Provincial Marine Park is a quaint little harbour with trails along rocky ledges that look out at the stunning views of the Georgia Strait.
The Marine Park is situated between Halfmoon Bay and Pender Harbour offering visitors a chance to hideaway for a night or even a week, depending on how flexible your schedule is. I found it perfect for anchoring down, the coves ocean bottom consisting of bedrock and medium to fine gravel and sand. Accessible only by water or trail, the park boasts a Coastal Douglas Fir rugged seacoast landscape dotted with one my favourite trees the Arbutus. It is a stunning scenic anchorage and marine landscape ripe for the pleasure of boaters and hikers. The area offers activities such as all-weather anchorage, walk-in camping, picnicking, viewing, photography, nature study, swimming and recreational fishing.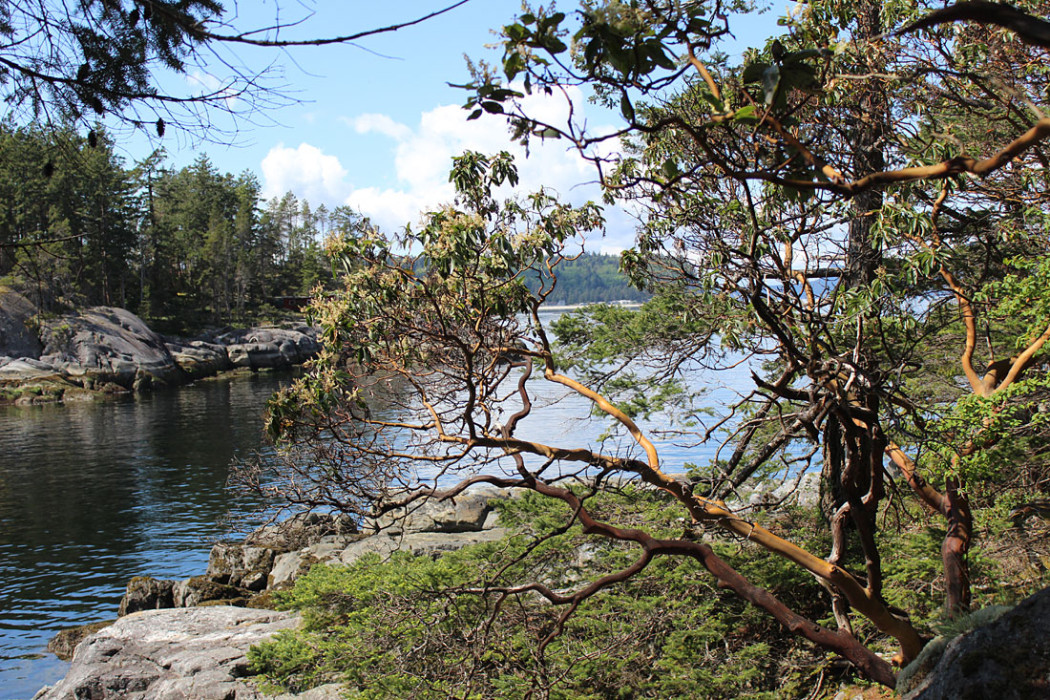 Once anchored safely in the harbour, take your dingy to shore for a beautiful hike surrounded by wildlife and a surreal natural environment. I love finding the perfect rock to sit up on soak in the sun, take in the ocean breeze and watch the wildlife in the area pass by. Be on the lookout, you never know when you might spot a harbour seal, stellar sea lion, dolphin or even a whale. Common fish are chum and coho salmon, cutthroat trout and shellfish such as mussels, oysters and clams. There are also a few sandy beaches just off of the trail that I find ideal for rest, relaxation, and pulling out a good book to read. If you are traveling with children there are tidal pools amongst the rocks that will provide hours of entertainment for the curious. Intertidal and undersea life includes anemones, rockfish, greenling, starfish, sculpin, mussels and barnacles.
Follow the trail around the rocks to a wetland marsh area, you will cross a couple of boardwalks, and if you are lucky you may find a variety of marine birds in the area including bald eagles, great blue herons, Canada geese, osprey, cormorants, loons, sandpipers and coots. Common mammals in the area are coastal blacktail deer, Douglas squirrels, bush rabbits and raccoons. Woodland birds are black-capped chickadee, pileated woodpecker, ruffed grouse, rufous-sided towhee, winter wren and varied thrush.
There are many informative BC Parks interpretive signs throughout the park that make your journey all the more entertaining.
Smugglers' Hideaway "At the first sign o' trouble I'll toss ye overboard and ye'll sink like a rock to the bottom of the sea." This was the policy of Larry Kelly, an ex-Royal Navy seaman who used Smuggler Cove's tranquil waters to collect cargoes of Chinese Labourers. The labourers, recently unemployed with the completion of the Canada Pacific Railway (1885) paid "pirate" Kelly $100 each to smuggle them into the United States in hopes of finding work.
Did you know? During prohibition (1920 to 1933) Smuggler Cove was used as a safe haven by rum-runners. They used ships, to transport Texada Island alcohol to thirsty destinations in the United States.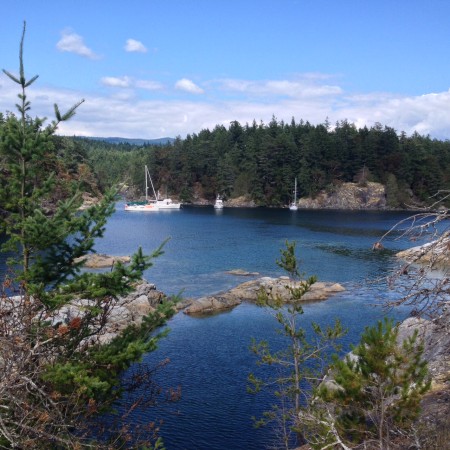 Essential services are located nearby at the private facilities located in Secret Cove offering boaters moorage, fuel, bait, and overnight accommodations year-round within 10 minutes of Smuggler Cove.
Smuggler Cove is one of my favourite Marine Parks to visit. Please respect the wildlife in the area, and help keep the park in its natural state.
For more information on Smuggler Cove Provincial Marine Park visit: http://www.env.gov.bc.ca/bcparks/explore/parkpgs/smuggler/
---
Blog post written by: Wendy Byhre – Passion for Tourism and Recreation in BC
Email: ahoybc@outlook.com
Want to learn more about BC's Hot Spots?
Follow: AHOYBC on facebook and AHOYBC and TravelingBC on Twitter