The coastline of British Columbia is filled with opportunities for unique experiences – from fresh-caught, locally-prepared seafood delicacies to historic spots, arts and culture, and wild wonder. So where will your quest for special explorations of BC's coastal waters take you? We have a few recommendations:
Shuck Fanny Bay Oysters
Coordinates: 49.471968, -124.793531
For 30 years, the family behind Fanny Bay has been providing some of the best shellfish in Canada, and if you're in the area you should put visiting their original Seafood Shop in Fanny Bay at the top of your list, as this is the place to find our farm-fresh clams, mussels, oysters, and live crab, as well as candied salmon and house-made sushi!
There's no moorage outside the shop, so a visit will require docking at the Fanny Bay Harbour [coordinates: 49.50713170005416, -124.8281647913609]. From there, take a leisurely 2.7 km walk or bike ride north along the South Island Highway to your destination.
---
Dock at Dinghy Dock Pub
Coordinates: 49.176946, -123.926454
As the only registered floating pub in Canada, this popular Nanaimo attraction has been offering a unique take on the pub scene since 1989. Located right on the water, take in the full-service, family-friendly pub atmosphere after docking right at the pub and grabbing a table – it doesn't matter where because they all offer fantastic views daytime and sunset views of Nanaimo Harbour with Mount Benson as a perfect backdrop.
After a meal of classic pub fare (and maybe a local Vancouver Island beer), take the connecting ramp to Protection Island. Walk on the rock beaches, visit the community garden or the local museum. Fishermen are encouraged to try out the "fishing hole" located right on the Dinghy Dock Pub's patio!
The dock can accommodate vessels up to 50', but check the tides before arrival as the draft is restricted at low water.
---
Taste our Island Wines
Vancouver Island and the surrounding Gulf Islands are a haven for oenophiles (wine lovers) looking to travel and taste their way around the West Coast of British Columbia. Vancouver Island is home to 20 licensed grape wineries, while the nearby Gulf Islands host a handful of stops. Many of these wineries are accessible by water plus a short bike ride or taxi, or you can book a wine tour through local operators.
Wineries accessible by boat (plus walk or bike ride):
---
Savour Nanaimo Bars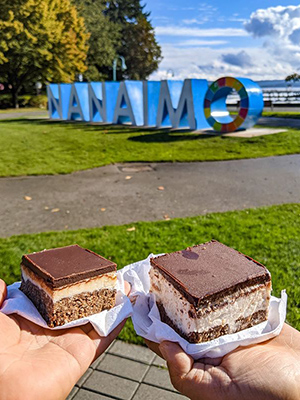 Dating back to the early 50s (although anecdotally it appears to predate printed recipes into the early 1900s), Nanaimo Bars are a local treat as well as a Canadian treasure, featured for an international delegation at the White House, and no visit to the region is complete without sampling this tasty dessert, consisting of a layer of custard atop a coconut-graham cracker crust, topped with a generous layer of chocolate!
Visitors to Nanaimo are encouraged to embark on the Nanaimo Bar Trail to discover their favourite version of this delectable delicacy, and to try alternates including Nanaimo Bar cupcakes, cheesecake, lattes, fudge and martinis – even beer! Consider a stop at the Nanaimo Museum (located just a few minutes walk from the Nanaimo Port Authority) to learn more about the history of this yummy confection!
---
Snorkel with Salmon
Experience a truly special occasion – the annual return of salmon to their spawning grounds to create the next generation of swimmers. Don your own set of fins, wetsuit, snorkel and goggles and hop into crystal clear waters to marvel at the salmon as they battle their way upstream.
During the prime season in August (but mid-July to September encompasses the spawning season), the rivers team with life. While you can certainly use your own equipment, you're highly encouraged to work with an experienced guide who will have all the gear you need, as well as the expertise of knowing the best salmon-spotting spots. The best location for swimming with salmon is in Campbell River, however, there are spots around the province where, if you time your trip right, you can jump in the water and enjoy watching salmon trek to their birthplace.
---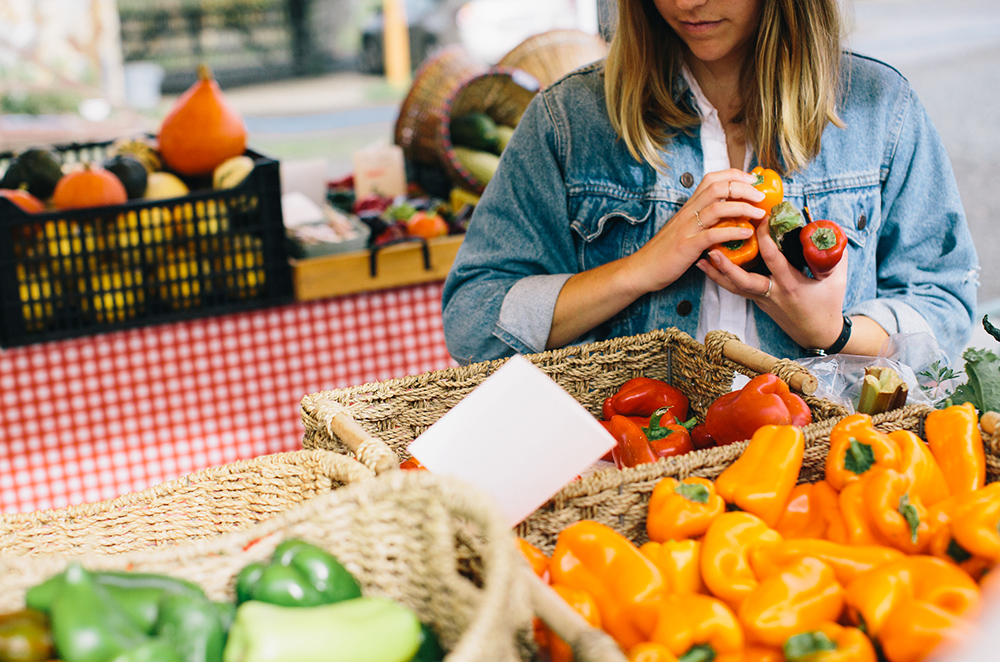 Support Local Food & Farmers' Markets
Discover local products and an abundance of food and drink while supporting local communities. Many farmers' markets throughout the southern BC coast are open year-round and provide the opportunity to find foods, products, and artisan goods that you can't find anywhere else. Check out ultra-local fruit, veggies, fresh dairy, plus local wine, cider and mead – all with the ocean breeze at your back. View the stops along the Vancouver Island and Gulf Islands with the BC Farmers' Market Trail and find out more about the benefits of frequenting local farmers' markets with Island Good.
---
Immerse Yourself in the Great Bear Rainforest
Tour one of the largest intact tracts of coastal temperate rainforest left in the world, stretching nearly 400 km (250 mi) along the central and northern coast from Knight Inlet to the Alaska Panhandle. Once you are in the Great Bear Rainforest, explore glacial fjords, natural hot springs, hikes and spot ample wildlife in the water and on the shore. The whale watching here is spectacular, and so is the fishing. Ashore, walk amongst decades-old stands of cedar and spruce trees, discover salmon-rich streams, and connect with the land that has been the home of Indigenous peoples since time immemorial.
---
Quest for Spirit Bears
At just 50-150 individuals, Spirit or Kermode bears are elusive, rare, and can only be found in certain areas of the Great Bear Rainforest. The Kitasoo/Xai'xais territory is home to the largest proportion of these bears, and the best viewing time matches up with the annual salmon run (mid-July to September).
It is highly recommended that if you'd like to spot these elusive bears and explore the region steeped in indigenous history and culture, get in touch with an experienced tour operator. Not only will they know where the best places to spot Kermode bears, but they'll also know exactly how to run the tour in an environmentally-responsible manner and with respect to local communities.
---
Revere Haida Gwaii – Gwaii Haanas National Park Reserve
Visit the wildness of Gwaii Haanas National Park Reserve and Haida Heritage Site – home to more than 200 islands, with diverse plant and animal life, and some of the oldest authentic examples of coastal First Nations' villages.
Surrounding the islands, ample marine life is easily found: orcas, humpback whales, Pacific white-sided dolphins and Steller sea lions.
Absorb the dramatic landscapes and explore some of the over 500 archeological sites featuring original longhouses and totem poles. Visit with locals (where permitted and appropriate) and learn the culture and history of these beloved islands.
Home to the Haida since time immemorial, visitors are asked to approach their visit with curiosity and respect – and to commit to the Haida Gwaii pledge before visiting.
Due to the limited accommodations and supplies – it is recommended that you book any stays or excursions a minimum of 6 months in advance.
---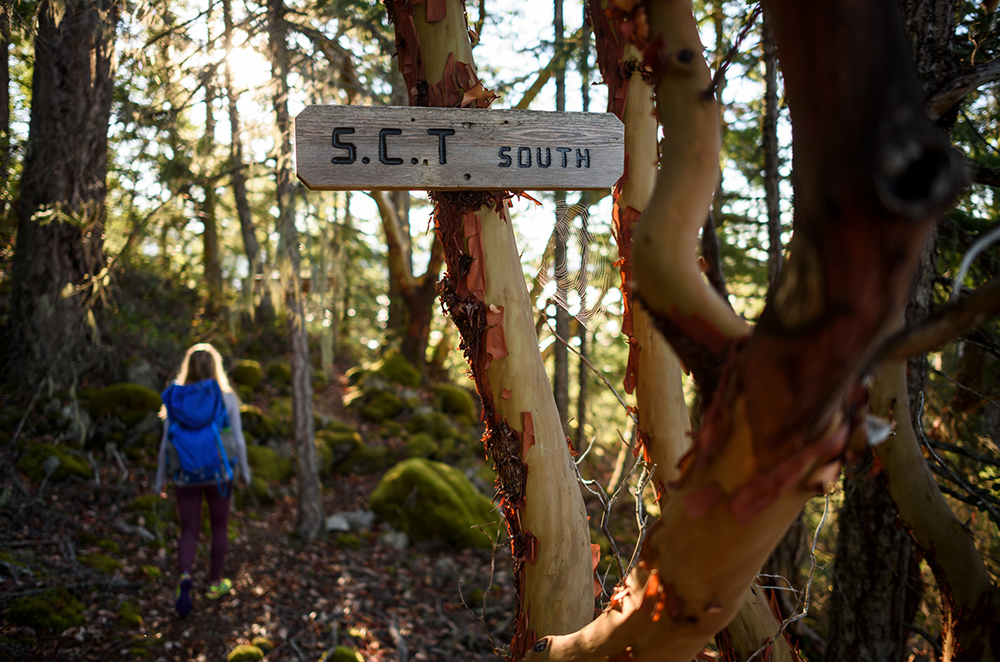 Hike the Sunshine Coast
Embark on Canada's longest hut-to-hut hiking trail, stretching over 180km from Sarah Point in Desolation Sound, across Powell River, and all the way down to Saltery Bay. Of course, 180 km is a lot of hiking – so feel free to check out shorter sections of the trail. There are 14 huts along the way and campsites throughout. Along the way, you'll encounter remarkable landscapes including coastal shorelines, creeks and lakes, old-growth forests and panoramic mountain views.
South of Saltery Bay, you'll also find Harmony Island Provincial Park, where you can find safe anchorage, swimming, snorkelling, kayaking and fishing. The 43-hectare park is perfect for a day of exploration, and you'll also find Freil Lake Falls as it tumbles down into Hothman Sound from Freil Lake.
---
Soak in Coastal Hot Springs – Tofino & Central Coast
Discover natural hot springs in some of the most scenic settings of the coast, many of which are only accessible by boat – so you can relax and enjoy the soothing, restorative properties of these hot pools with (hopefully) just you and your boat mates!
Ahousat Hot Springs – Gibson Marine Provincial Park
Hot Springs Cove – Maquinna Provincial Park
Hotsprings Island – Lyell Island in Haida Gwaii – by permit only
Weewanie Hot springs – Ursula Channel
Bishop Bay – Devastation Channel
Shearwater Hot Springs – near Kitimat
Ramsay Hot Springs – Maquinna Marine Provincial Park
Choquette Hot Springs Provincial Park – Near Stikine River
Tallheo Hot springs -South Bentinck Arm
---
Taste Culinary Creations
The proximity of fertile valleys adjacent to seafood-teeming seas creates a culinary juxtaposition like none other along BC's coastline. From the sophisticated cities including Vancouver and Victoria to tiny hamlets dotting the rugged coast, culinary adventure is never far once you step ashore.
Visit the Comox Valley for a trifecta of towns that have long taken advantage of their local produce and fresh-caught fare. Head to the Cowichan Valley, the "Napa of the North," for wines of every description along with other craft creations alongside locally-sourced food. Stop in at mom-and-pop shops all along the coast for meals made with a little something extra, and don't forget that many local marinas will sell fresh seafood right off their boats!
---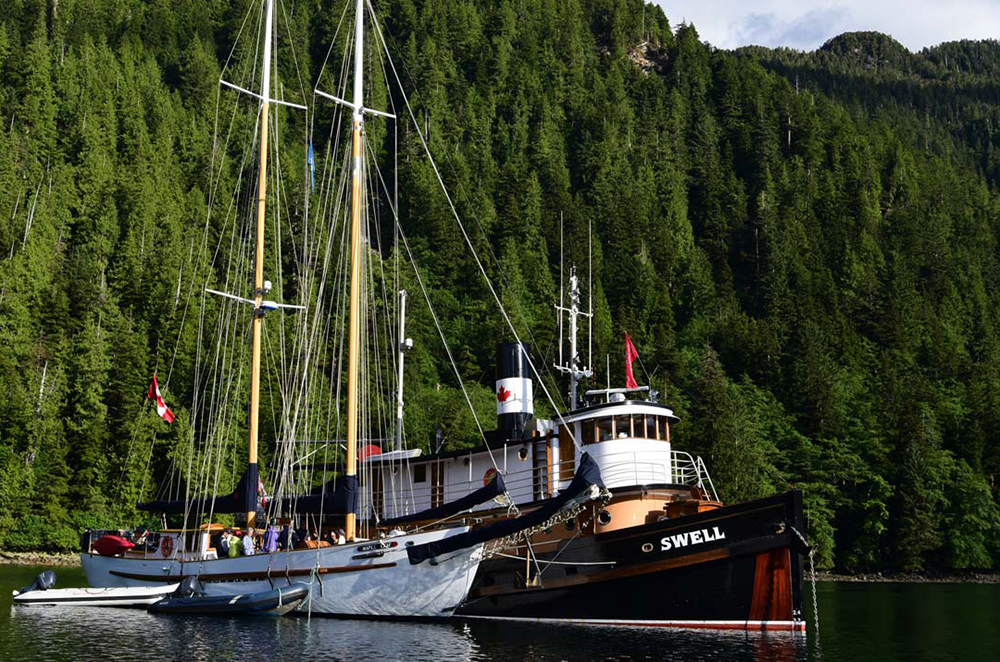 Take a Guided Adventure Tour or Day Trip
No one knows BC's coastal waters like local boat tour operators, which is why we highly recommend taking a chartered tour or day trip if you want to learn the area's lands, wildlife, and local culture. Tours typically feature small groups and are operated by expert mariners and guided by expert naturalists.
Explore secret spots that you wouldn't find on your own: remote beaches and old-growth rainforests, bygone First Nations' villages, waterfalls, kelp forests and estuaries. Along the way, you'll experience bear viewing, whale watching, sailing, sea kayaking, swimming, fishing and ample opportunities for wildlife photography. Learn from experts and locals about the ecology and culture of each place you visit, and benefit from your tour operator's signed protocol agreements with regional Indigenous people for a respectful and un-impactful visit.
Ready to start planning? Start with our BC Coastal Map, chart your course with circle tours and be sure to follow us on Facebook and Instagram for more inspiration to help you plan your next unique BC boating adventure!
Header image: Shearwater Hot Springs near Kitimat | Northern BC Tourism/Andrew Strain