Find BC boat charters and sailing schools near you. Whether you're brand new to sailing, or simply without a boat, we can get you on the water!
Our mission: Provide high quality recreational vessels, along with professional and personalized sailing instruction, to adventurous adults who want to realize their dream of exploring BC's beautiful coastline and marine parks by boat.
Skippers — Who says you don't have a boat on the West Coast?
You may enjoy the many worlds of British Columbia's coast in the perfect boat for you and your party. The bareboat charter companies of British Columbia have vessels suited to every crew size, destination and skipper preference. We will have your boat ready to go when you arrive.
Next-Gen Skippers — Boating is for everyone and it is fun even learning.
Why not treat the whole family to a vacation on the water, while you learn to sail as a team. After five days of instruction, you earn a Day Skipper or Day Crew certification. The cost is less than a Vancouver to Anchorage cruise ship holiday. Which sounds more rewarding to you?
After another 5-7 days of instruction, you earn Intermediate certification, which qualifies you as a Bareboat Skipper. After two holidays, you are ready for the big holiday.
Now you have the skills to charter a boat. The day may come when you buy a boat. In the mean time, chartering is an affordable option.
Vacations: transportation, accommodation, some meals included, ranging from $1400 to $4500 week, 4-10 guests.
You can charter a 30' sailboat for as little as $1400/week. Shared by two couples or a family of four, that is an economical adventure holiday. (Meals are included, provided your fishing and crabbing are successful.) As boats get larger and more expensive, there is room for additional crew. At the top end, a 55' power vessel sleeps 10. The cost is the same as a weekly houseboat rental on Shuswap Lake. You can frolic with the dolphins and whales, or float with the mosquitos.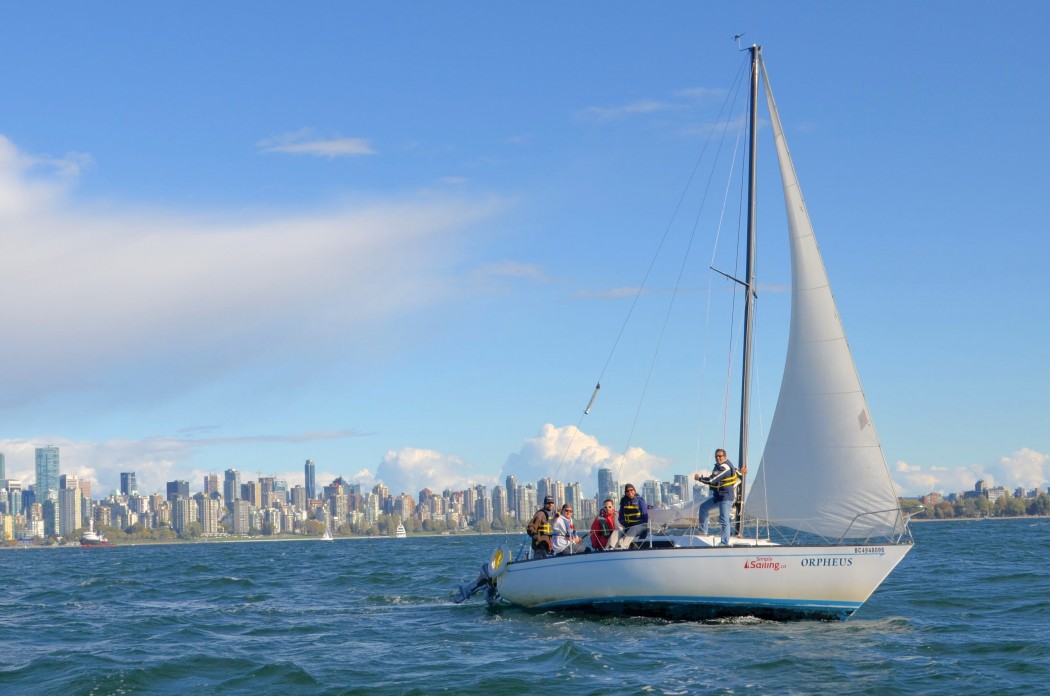 Click on a logo and contact any of the Charter and Sail School companies below and let's get you on the sea.
Simply Sailing Professional Sail Training Centre
Learning to sail with us is simple and fun. Based in Vancouver, we provide practical learning on local waters aboard a forgiving boat with friendly and qualified instructors. We offer basic, intermediate, advanced and off shore sailing lessons. Private sailing lessons, introductions to sailing and performance sailing clinics are also available. Our 5-day live aboard courses are an economical adventure holiday in the Gulf Islands, Howe Sound and Sunshine Coast. Courses are offered year round and you can fit them around your schedule.
Blue Pacific Yacht Charters
In business in Vancouver for 25 years, we pride ourselves on making sure we exceed our customers expectations for quality, service and adventure. Our employees are fluent in five languages and we have boated in BC all our lives. We would like to help you plan your sailboat or powerboat charter vacation anywhere in the sheltered waters of British Columbia or Washington State. Blue Pacific pioneered the "Yacht Lease" concept in Canada. This program allows boaters to share in the use of late model yachts, without any of the expense of ownership. Need to polish your skills? Never piloted a boat in tidal waters? Our affiliated sailing school can show you the ropes.
Cooper Boating
Cooper Boating delivers the best boating holidays in the world. Our formula includes spectacular people, high quality boats for every captain and crew and customer service standards that have been continually refined since 1983. When combined with the spectacular scenery, wildlife and cruising grounds of the British Columbia coast, Cooper Boating is the preferred choice for the best "on the water" experiences.
 Cooper's tradition of coaching — both in our courses and when introducing people to our boats and regions for charter experiences — sets us apart. When boaters take to the water with Cooper, our instructors set them a course for a lifetime of great cruising.
Desolation Sound Yacht Charters
At Desolation Sound Yacht Charters we believe nothing is more enjoyable and exhilarating than sailing or power boating on a charter yacht. You decide when you wish to sail, swim, collect shellfish or just relax on deck. Many experienced sailors consider Desolation Sound to be among, or even the, most beautiful and varied cruising area on Earth. Warm weather and tidal patterns contribute to water temperatures in Desolation Sound exceeding 75°F (22°C) during summer. You can spend six glorious days in a wilderness setting while you learn to operate a power or sailing yacht. Our skippers also explore the deep fiords of Toba Inlet and Princess Louisa Inlet or cruise north to the wilds of the Broughton Archipelago and Great Bear Rainforest.
Nanaimo Yacht Charters
At Nanaimo Yacht Charters, we believe the only limitation to your yacht charter or instructional sailing vacation is the length of time you have to spend. Based in Nanaimo, we are ideally located for exploring the Gulf Islands, Princess Louisa Inlet and Desolation Sound. Plan your own holiday itinerary or choose from one of our popular routes. In addition to our selection of the very best in sail and motorized craft, we can put you in the Skipper's chair with our instructional sailing vacation and other courses, all certified by the Canadian Yacht Association and International Sail and Power Association.
International Sail and Power Association (ISPA)
The International Sail and Power Association (ISPA) is a leading nonprofit organization dedicated to the training of both sail and power techniques. The Association promotes both sailing and power boating through a coalition with our partners, member clubs and schools. We represent students and instructors alike. We work with governments, experienced sailors and sailing schools to develop courses which are recognized internationally.
International Yacht Training Worldwide
International Yacht Training Worldwide provides the most boating courses through more sailing schools than any other accreditation body in the world. That means you can complete accredited training close to home, ahead of your British Columbia voyage. And you know that wherever you take your training, your certificate is recognized worldwide. Our international standard of excellence is the most trusted in yacht training, maritime certification, and sailing adventures. Our more than 150 partner schools in 41 countries offer a range of courses in the lingua franca for recreational boaters and commercial operators. You can even take a Superyacht Chef course.