Have you heard of biophilia? It refers to the innate fondness we have for the natural environment, which is evident in boaters who strive to spend a large portion of their time on the water, absorbing nature's restorative powers. Going "on the hook" or anchoring in the wild (rather than at a marina) puts you in the middle of nature, perfectly primed to wake up to the peaceful sounds of waves lapping, leaves rustling in the breeze, birds chirping, and little else.
During the day, continue your reflection with a yoga session on a deserted beach, swim in warm, shallow bays, hike to vistas rarely witnessed by humans, or simply stop, breathe and absorb the splendour of BC's wild, but civilized coast.
Start planning your British Columbia boating excursion to wake up in nature with AHOY BC's cultivated list of top places to drop anchor travelling south to north on BC's incredible coastline: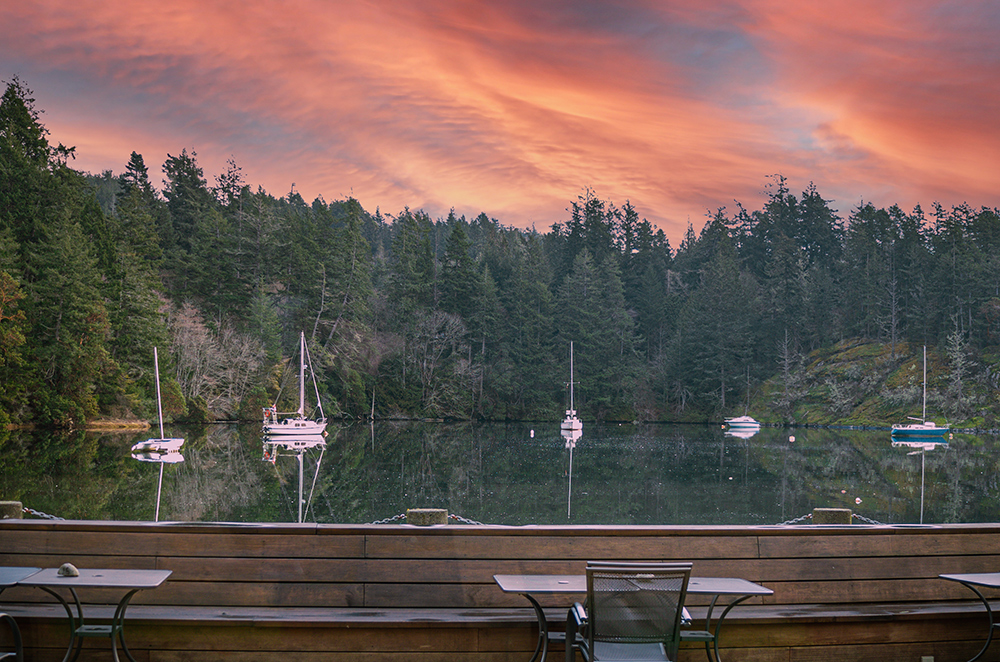 Sooke Harbour
Coordinates: 48.358684, -123.723264
Sooke Harbour is the only protected harbour between popular Victoria and Port Renfrew (on the way to Barkley Sound and Ucluelet), so an overnight stay here for those touring the west coast of Vancouver Island is a natural stop for sheltered anchorage. Protected by Whiffen Spit, Sooke Harbour is a good spot to drop anchor, as long as you're comfortable with a bit of wake from passing boats entering the harbour. After watching the sunrise on deck with your morning coffee, consider exploring the Harbour, surrounded by forests for leisurely walks and home to a variety of beaches and parks.
Ganges Harbour, Salt Spring Island
Coordinates: 48.857245, -123.499120
Ganges, at the head of Ganges Harbour, is a favourite destination for boaters. The bustling seaside village has marinas, shops, galleries, restaurants, and two large supermarkets with marina delivery. Visitors to the village can explore bakeries, take a bike ride across the island, visit quaint shops, or plan to visit the colourful Saturday market in Centennial Park. The lengthy harbour provides plenty of room for anchorage, so you can settle for the night, enjoying the peaceful lapping of gentle waves against the hull of your boat to wake up in the morning and head out to sea, or stay for a few days and keep exploring Salt Spring Island.
Nanaimo Harbour, Newcastle Island (Saysutshun) & Protection Island
Coordinates: 49.182171, -123.934068
If you love to wake up in nature and spend days exploring, but prefer to stay close to the action, this is an ideal anchorage. The entrance to Nanaimo Harbour is guarded north and south by Newcastle Island (Saysutshun) and Protection Island, providing ample protection and spots to go on the hook or drop anchor for stay the night. Known as Saysutshun by the Snuneymuxw, Newcastle Island is home to a Marine Provincial Park, accessible only by boat, with trails, tidal pools and historic sites including Snuneymuxw village sites, sandstone quarries, fish saltery and coal mines. Consider booking a walking tour or traditional salmon barbecue to learn more about the unique Indigenous culture of the Snuneymuxw people while you are visiting. And should you need supplies or wish to indulge in city or nightlife, Nanaimo is close at hand.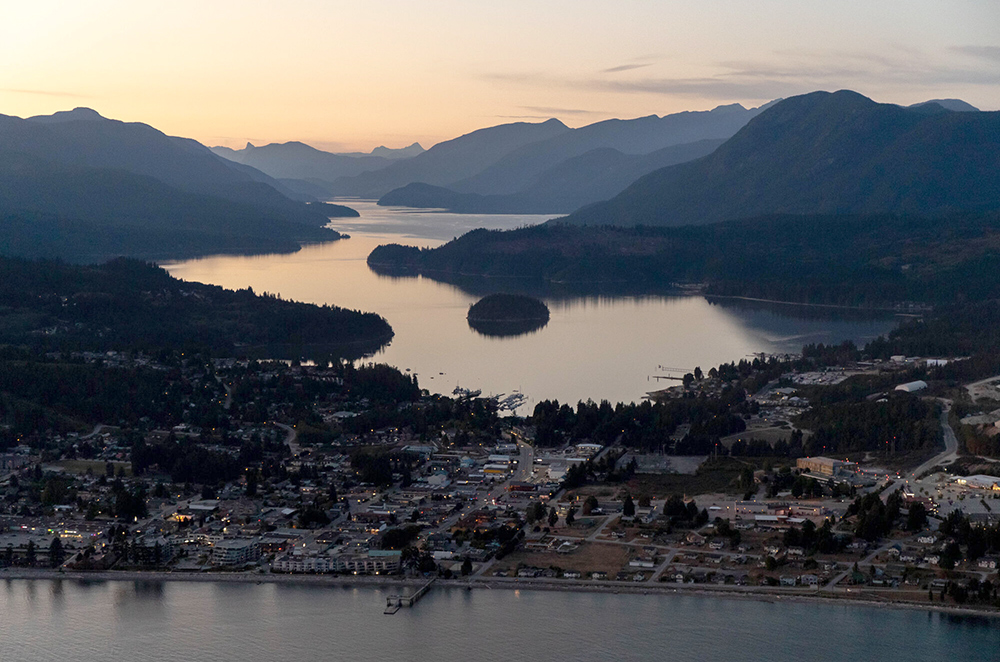 Smuggler Cove, Sunshine Coast
Coordinates: 49.509601, -123.952852
This small, scenic, and secluded all-weather anchorage is located on the south side of Sechelt Peninsula, just around the point of land from Frenchman's Cove. Up to 20 boats can take advantage of available stern-tie rings, but oftentimes fewer than a dozen boats can be found here for an anchorage that almost feels like your own piece of paradise. Head ashore during the day to take to the boardwalk trails through beaver-flooded forest or refresh with a swim in the warm waters (May-August). Note that water depth can change significantly with the tides, so anchor in the middle of basins and consult your chart for obstacles.
Sunshine Coast is home to a variety of terrific anchorages, so if you'd like to continue exploring, feel free!
Desolation Sound & Princess Louisa Inlet
Coordinates: Chatterbox Falls 50.204423, -123.772668
Considered a bucket-list boating experience, Desolation Sound and Princess Louisa Inlet is a granite-walled gorge, with serene waters (other than the roar of 60+ waterfalls). Princess Louisa Inlet itself is only 6 km long, making for a fun day trip, but we highly recommend spending a day or two exploring the area to take in the myriad waterfalls and appreciate the ancient petroglyphs and rock paintings. Along the way, find plenty of places to drop anchor and spend the night, relishing in the sheer power of Mother Nature as water spills over rugged cliffs to the rocks below, resting for the night with your own white noise machine to lull you to sleep and ensure a peaceful rest.
Princess Louisa Marine Provincial Park surrounds much of the Inlet and features 800 metres of trails and boardwalks near picturesque Chatterbox Falls, as well as a fantastic place to scuba dive, swim and kayak. The other noteworthy attraction is James Bruce Falls, known as the highest waterfall in North America at 840 metres (2,760 feet) and the ninth tallest in the world.
Please note that the Inlet is part of the Rockfish Conservation area and fishing is prohibited.
Tribune Bay, Hornby Island
Coordinates: 49.527291, -124.634422
Aptly named "Little Hawaii," because of the stunning, close to 1km long white sandy beaches flowing into the aquamarine sea, the peaceful retreat of Tribune Bay is a short trip from Qualicum Beach on Vancouver Island's eastern shore. Considered to be one of the warmest salt-water areas in the province, you can hop in for a refreshing swim, or take your dingy to the beach to explore the park. Just a five-minute walk from shore will put you in the middle of Hornby Island's eclectic "downtown" district, where you can visit the shops and find services, before returning to the peaceful solitude of your vessel for a night of restful sleep.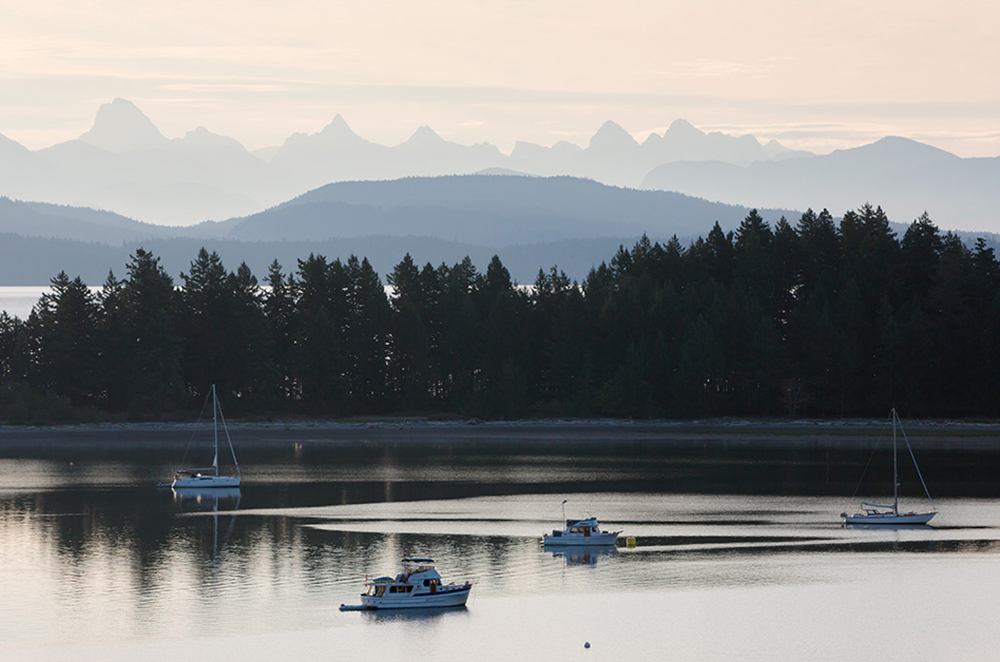 Drew Harbour at Rebecca Spit, Quadra Island
Coordinates: 50.096336, -125.188262
The narrow hook of land on the east side of Quadra Island offers an ideal spot to drop anchor. Boaters typically prefer overnighting in sheltered Drew Harbour, while in the daytime popular pursuits include exploring walking trails, swimming, fishing, and paddling the waters. After a morning coffee or tea and watching the sunrise, take your dingy to the spit (part of Rebecca Spit Marine Provincial Park) and explore the 2 km of sandy beaches on each side to dig your toes in the sand and enjoy this popular, yet peaceful destination.
If you need to resupply, simply head south around the island and just 10 minutes across Discovery Passage to the quaint cities of Campbell River & Courtney.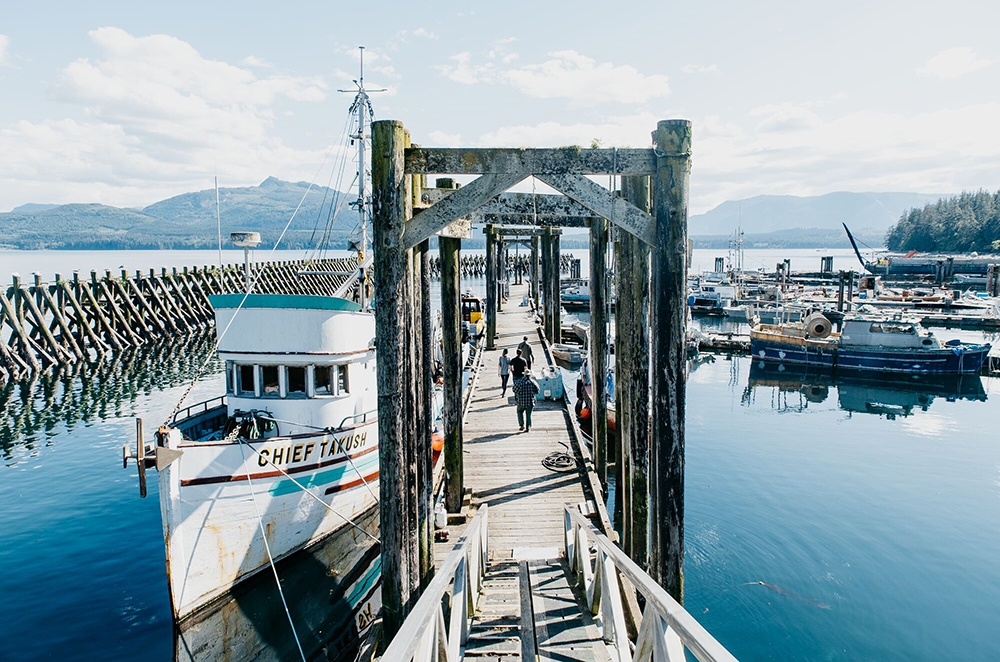 Alert Bay
Coordinates: 50.590714, -126.933160
The small village of Alert Bay on Cormorant Island has a ton of character, as well as a bustling event calendar over the summer, ideal for a stop as you head north up the eastern coast of Vancouver Island towards the Broughton Archipeligo and Johnstone Strait. Anchorage is available in the Bay, but boaters are advised to anchor clear of the ferry dock, and its approach and depature paths.
Once you've greeted the day with a few sun salutations (or a second cup of coffee), head to the Alert Bay Boat Harbour for day moorage. The village is just a half-mile from the Boat Harbour, simply take a right at the top of the dock and continue along the waterfront. Stop in at the visitor centre along your way to discover all things to do during your visit, including a tour and history of the island's many totem poles with the help of a totem pole guide, available at the visitor centre, or a stroll through the Alert Bay Ecological Park.
Shearwater Hot Springs
Coordinates: 53.447291, -128.562065
Heading up the coast, you'll see fewer faces and places to stop to supply, but it's so worth it if you want to further embrace the raw beauty of BC's wild! Located on the north side of Alan Reach in Gardner Canal, boaters can access two mooring buoys in a small bay between Shearwater Point and Europa Point. The Shearwater Hot Springs Conservancy offers sheltered boat anchorage sites along Gardner Canal. Plus, what could be a better way to get back to nature than to soak in the warm and odourless hot spring waters of Shearwater Hot Springs, followed by an invigorating swim?
Bearskin Bay at Daajing Giids, Graham Island
Coordinates: 53.25098, -132.07868
The modern village of Daajing Giids (formerly Queen Charlotte) is spread across three Haida village sites and is an ideal location to stop and resupply while touring the islands, as well as to take in the remarkable beauty of Haida Gwaii and its people. Bearskin Bay is the preferred anchorage for visitors at 20-35 feet depth, although is open to wind and chop from the east.
After a leisurely morning on deck, watching seabirds take flight (or maybe a seal, sea lion or otter looking for their breakfast) head into town, should you desire. Start your onshore adventure with a stop at the visitor centre, just east of the Harbour Authority floats. Explore old-growth forests along the Kaahlgwa Gandlaay K'yuu (Crabapple Creek) Trail, walk the waterfront trails and check out the funky stores along the Wharf Walk, or visit Green Coast Kayaking for bike, kayak or paddle rentals or consider a guided cultural tour of the Island's many attractions.
Please note that visitors are advised to book activities well in advance and are encouraged to visit https://haidagwaiipledge.ca/ before visiting.
Discover even more anchorages to nestle in at night during your exploration of British Columbia's Coast – including Vancouver Island West, Gulf Islands, Princess Louisa Inlet and Broughton Archipelago or explore and plan with our interactive BC Coast Map!